Live At Leeds 2016: TSOTA's line-up @ the Hyde Park Book Club
Last year, Hyde Park Book Club seemed to spring up overnight. Offering a veggie menu and a relaxed atmosphere for open mic nights and gigs, it has fast become a vibrant arts space ever growing in its popularity. This Saturday, as part of the 10th Live at Leeds festival, the fortunes of HPBC and The State of the Arts well and truly collide, bringing you a State Of The Arts-curated stage boasting a formidable selection of regular and first-time bands and DJs.
The program kicks off at noon with soul and jazz singer Phoebe Katis. Phoebe has been busy gigging in and around her hometown of London, but will be in Leeds for the day for a special performance to open the day. Spurred by a belief that music from certain parts of the world is often underrepresented, Glug Glug will explore jazz, fusion, ambient, synth, and more from far-flung cities, countries, and continents.
Knottingley's Toria Garbutt, part of spoken word collective A Firm of Poets, will be launching her debut album on new label Nymphs & Thugs at the Book Club on 26th May. On Saturday she'll be performing a selection of her observational, confessional punk poetry, and will be joined by fellow Nymphs & Thugs member Kirsty Taylor.
Hilary and the Hate Crimes, another Leeds group, sound like a cross between Nick Cave and Talking Heads, and boast surreal lyrics. 'Hee-hee' is a great track, and it's refreshing to have something a bit bizarre to stand out amongst the bigger bands playing in the city centre. Parris Elektra combines a beautiful voice and relaxed style with an electric guitar to produce ethereal but lively soul, and will be followed by local African-blues-inspired funk outfit SIFAKA.
Contributors to Leftovers include labels Ilian Tape, Lobster Theremin, Perc Trax, and Mindcut. The techno collective have already put on some awesome shows at the Book Club, and will no doubt add to the program's energy.
Spoken word and grime artist Paddy GFE will pick up were Toria and Kirsty leave off, with lyrics infused with social and political commentary. He'll be followed by suckerpunch-punk-rock quartet Life, as seen on Radio 1's best of BBC Introducing list 2015. And Soul Control will deliver "sounds from Nigeria to Nicaragua, Brazil to Bristol, and back" – their mix of dub, afrobeat, and jazz will be perfect for this early summer's evening slot.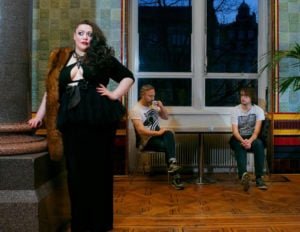 We loved Galaxians at The Tetley's Garden Party last year, and the Leeds locals are returning once again to the city's festival scene. A must see, their addictive synth pop sound makes them a must-see if you want to have a dance during the festival. We say 'Strictly Busin£$$' and 'Street Level' are their best tracks, and the trio's popularity is only set to rise.
So all that adds up to a veritable feast of raucous, raw talent on one of Live at Leeds' most intimate stages. Come down to the Hyde Park Book Club from noon tomorrow to catch the full show.
Live at Leeds runs across Leeds on Saturday 30th April. Wristbands for the day are still on sale here.
@_littlehobbit