Cusp @ Sheffield's We Are Folk.Space: A Weekend of Talented Local Makers
The Sheffield cup is overfloweth with talented artists and craftspeople and CUSP, an exciting two-day arts and crafts event (20/21st May), demonstrates just how much is going on in just one little pocket of this productive city.  The event has been curated by Bev Seth and Wendy Vaughan and features the good folk of Heeley and Meersbrook. It's essentially a pop-up shop showcasing contemporary crafts by a group of talented local makers.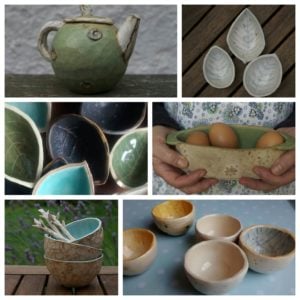 Bev is a potter and Wendy likes buying lovely handmade things. Wendy works in marketing and fancied getting involved in promoting and organising something outside of engineering software for a change! Together they saw something they would both enjoy working on.
They started the ball rolling late March. The opening of We Are Folk Space was the impetus. (We Are Folk is a shop size space on Chesterfield Road created for folk to use pretty much how they please: pop up shop, meeting venue, social hangout). Wendy and Bev really believe in the idea of a community space to be hired out by local people and they wanted to do something that contributed to the buzz created by the opening of new businesses on Chesterfield road – like Spinning Discs, Tramshed, Bhaji Cafe and Folk Space.
The name CUSP came about because Heeley and Meersbrook border (are on the cusp of) each other. Also they wanted to feature makers who are perhaps not yet widely known or not even selling at all, but could be on the 'cusp' of greatness.
As this is their first event and bearing in mind they wanted to do something to keep the impetus going in their neighbourhood, they wanted to feature makers from the Heeley and Meersbrook area.
"We also wanted a good mix of crafts and a range of products that would be complementary," said Wendy.
"Ours is a little corner of the big, creative city that is Sheffield, but we had no trouble filling our event with wonderful, talented makers from the area. In a broader sense, it also fits in nicely with 2016 being The Year of Making."
The space opens on Friday 1pm-9pm.
"We thought that the good people of Heeley and Meersbrook might warm to an evening of record-shopping, a bite to eat, a drink in the Tramshed and bit of shopping CUSP style, so we decided to open til late on Friday!" said Wendy. "And Saturday 10am til 5pm. I'm really excited. And a bit eeeeek!"
Find the event on Facebook and Instagram. To find out about the space see http://www.wearefolk.space.
47-49 Chesterfield Road, S8
Friday May 20th 1pm – 9pm
Saturday May 21st 10am – 5pm
email: cuspevents21@gmail.com