Film Review: Len Lye: Cinema, Strike!, pioneer of direct film
Len Lye was a renowned pioneer in direct animation as well as being a gifted artist and sculptor, and this screening was an opportunity to experience first-hand the works for which he became famous.
Lye was interested in movement in art and this lead him to become an experimental film maker. He created animated film through techniques applied to the film itself, such as scratching and using stencils and dyes.
Cinema, Strike!, Sculpture showed 5 of his films. 'Kaleidoscope' (1935) featured coloured shapes such as dots and diamonds dancing playfully across the screen to a Cuban music soundtrack. 'Life's Musical Minute' (1953) was a promotional film bursting with energy.
'All Soul's Carnival' (1957) was an aesthetic treat, with zig zags, specks and splashes moving vibrantly. Sometimes the music and moving shapes were slow and mysterious, creating an experience like walking through an enchanted wood.
'Free Radicals' (1958) has been seen by some critics as Lye's greatest film. It consists of white lines on a black background moving to African drumbeats. The film is like a transfixing vision with a pulsating soundtrack, beautiful and mesmerising. The film won second prize in the International Experimental Film Competition at the 1958 World's Fair in Brussels.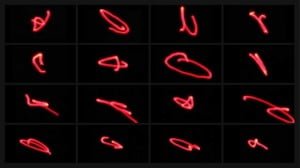 'Fountain of Hope' (1959) was a film commissioned by the United Nations and showed the word 'Peace' in many different languages accompanying singing.
The final piece was an excerpt from 'Art of The Sixties: Walls Come Tumbling Down' (1968). This was a television documentary that featured an interview with Lye as he demonstrated his powerful kinetic sculptures in action.
Lye's creations in film and sculpture were impressive. They demonstrate both his passion for the experimental and a visionary imagination. A gifted artist – his works lives on.
Reviewed at Hyde Park Picture House, Leeds on 26 January 2016, 6pm.