Interview
Green Island Festival 2023 – Manchester's hidden party in paradise
Manchester is a city that can feel increasingly crowded.
New flat developments are bunched up next to each other as tightly as commuters on the tram nowadays. Everything is busier, and options are endless for places to go and ways to spend time.
One wonders what impact this has for the city's cultural ecosystem. Does even more opportunity exist for new ideas, new art, new events to have an impact? Or is space too scarce to start anything?
Green Island Festival can help answer those questions. In a city with well-established nights, venues and performers, they've managed to find a spot – physically, and within its cultural landscape – that is unique and building an impressive audience. It's unlike anything else in the city, and has potential to become a mainstay of its music festival circuit.
Taking place across 3 weekends at Hulme Community Garden Centre, Green Island offers a full day of eclectic music in a little-known yet idyllic part of Manchester. Their mission is to establish "a platform for new talent and creating a safe network for community cohesion", whilst giving attendees a day of dancing to remember.
The organisers chatted to TSOTA ahead of the first instalment for 2023, and for them, the goal is simple: "We want people to leave their worries outside, and come for a party in paradise."
Stephan Agbogbe & George McGirr founded Green Island Festival in 2021. Stephan has programmed at the likes of Band on the Wall, whilst George has come from a soundsystem background. Each year since, they've been able to retain & grow their audience, whilst refining their brand and the event experience.
Their past roles meant they knew they could "throw a cool event that we would want to go to," whilst also spotting the space for their idea to succeed. There's a supportive, community ethos at the heart of their mission, which not only helps distinguish them from similar events in the city, but will make Green Island resonate longer with those who come into contact with it.
This mission runs through everything, from the programme, to the location. Hulme Community Garden Centre is fertile land for a friendly occasion like this. Three stages have been built across the site, but just as much attention has been given to the bits in between. There are spots for raving and spots for relaxing in the shade. Handmade furniture sits next to flower beds; speakers peak through tree branches.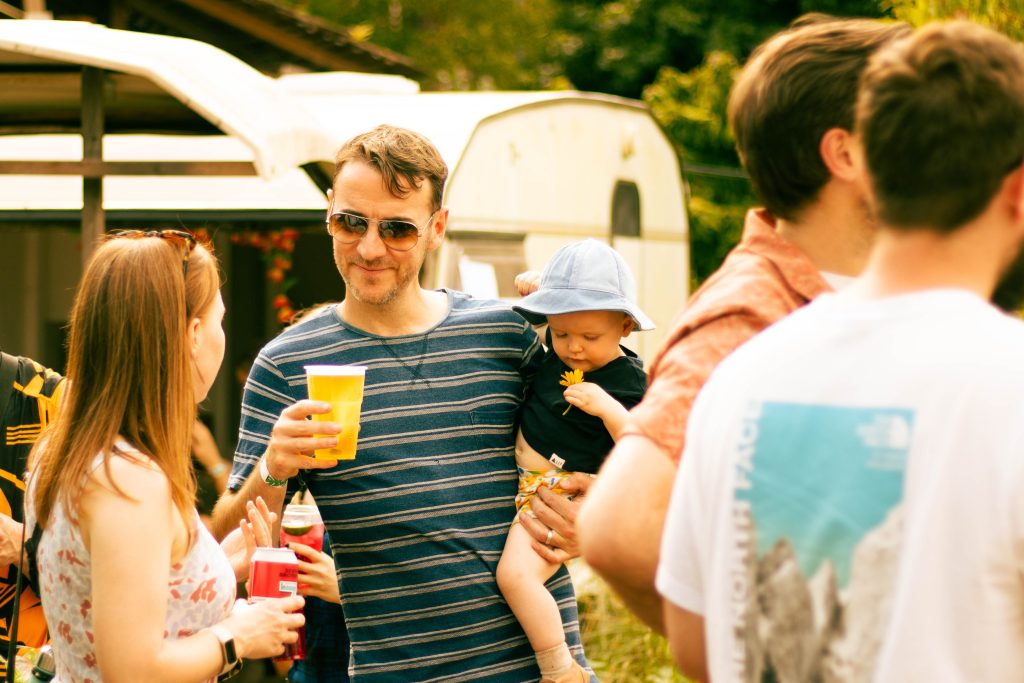 The layout makes the event seem mature well beyond its three year life. Routes are mapped to make it feel intimate yet roomy. Seating, staging and sound systems are integrated to look permanent. The bars and catering serve as good as you'll get at any festival this summer, but for two-thirds of the price – food is provided by beloved local vendors like Didsbury's Midori, prrof that the community ethos is touching every element of the project.  
The ethos is also evident in the line-up. The founders' experience of booking talent for Manchester venues has made for a diverse roster of sounds, most of which the crowd might never have heard before. "You realise when you start that you don't need massive artists," explains George. "A lot of people are coming for the vibe, then they leave having discovered a really cool new artist."
With live acts on the Main Stage, DJs on the Forest Stage, and new talent on the BBC Introducing Stage, there are different genre options in every direction. 
Local DJ collective SHEWillProvide burn through everything from Afrobeat to drum & bass, whilst Charlie Boy Manson & Francs channel British rappers like Klashnekoff and Jehst for their set. There's a serving of Amapiano and minimal house from Terrie T, whilst headliners BCUC – team of South African rhythm makers armed with cowbells, bongos, whistles, bass and more –  take this community global with one with the most energetic performances imaginable.
There's huge amounts to discover, with punk, ska, soul and jungle all heard throughout the day. Inspired by the likes of We Out Here, the programming was driven by the founders' desire to platform what they knew, what they liked and what they could trust to fit the vibe. "You look at the artists you like," says Stephan. "And there's a bit of funk, a bit of hip-hop, a bit of everything – then you just bring it together and make it work."
A special mention is owed to the soundsystem at the festival. Each stage is rigged to a standard you'd expect at much bigger events; the higher quality in how you hear everything will elevate the Green Island experience to the next level.
But the best characteristic is without a doubt the Garden Centre location hosting Green Island.
Manchester gets criticised for not integrating enough green space within the city. Whilst the best parks and natural locations are in the suburbs, Hulme is only a short walk from Deansgate, and its garden centre is the city's best natural sanctuary. The decision to hold an event here is simply a stroke of genius.
Given the increase in noise and people the events bring to the area, the team had to engage the local community, build relationships, and bring them on the journey. The potential for Green Island to put Hulme in a spotlight has helped them onboard the neighbourhood and buy them into their vision. Stephan explains that they think "quite a lot about the people from the community getting involved in it, the business around that get attention, the afterparties at Niamos – it benefits Hulme in the long term."
The founders have high aspirations for their festival. "We've started asking ourselves – what's the next direction?" says George. "There's other spaces around here with a capacity of a thousand… could we move into one of those? Could we fill out a venue?"
"We want it to be a staple of Manchester like MIF," adds Stephan. "And we'd love to keep it in Hulme, wherever everyone gets involved."
With their current formula, the sky feels like the limit for Green Island. Thanks to the founders' vision, and natural ability to create community, the festival has the momentum to become one of  Manchester's best cultural assets. It's proven there's still space in the city for innovation, and the status quo is not so concrete. As Stephan explains: "If you have the right idea, the right setting and the right ethos, you can do this – the entertainment business is still huge and people need a place to escape."
Green Island has all of the above. There's still two more events to go this year before they need to worry about that next big step. But make sure you go to one of them, because it might not be a hidden gem for much longer.
***
Follow Green Island Festival here, and watch out for their return on 29th July and 2nd September this year.
Filed under: Music
Tagged with:
community
,
dance music
,
DJ
,
funk
,
garden centre
,
green island festival
,
hip-hop
,
Hulme
,
Live Music
,
manchester
,
music festival
,
Soul