Let It Be – A Truly Magical Mystery Tour!
Let It Be is a spectacular celebration of The Beatles. In fact, it really is like being in a room with the Fab Four. The live musicians play hit after hit with high energy throughout, never failing to hit every note. What's even more impressive it that the musicians sound just like The Beatles, but don't appear as if they're particularly trying to. This effortless way of encapsulating the band's vibes without appearing like a tribute band makes this show absolutely fantastic.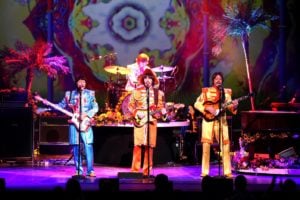 I did know a little of what to expect from this production, having spoken to a few friends beforehand. Therefore, I was expecting a gig-like show with little narrative or background information about The Beatles and that's exactly what the show is. It's not The Buddy Holly Story – aside from a few breaks in order to change sets there's not much going on besides the four musicians belting out toe-tapping tunes.
The set, however, does provide a bit of context, and makes you feel as if you really are an audience member of the real band. The clever use of lighting by Humphrey McDermot creates the Cavern Club, before the set takes us to America for a sell-out arena gig. The costumes also help to give a sense of which era we're in, as the costume changes are each iconic Beatles looks.
I love the odd real-life quotes from John Lennon that add to the atmosphere, such as 'we hope we passed the audition'. Touches like this add a certain sparkle, and the energy between the band is almost electrifying.
I have to say, I'm a little disappointed with the people of Leeds, who took little joy in dancing and singing along. This was absolutely no fault of the cast or the production – perhaps the audience just weren't as lively as others! It did make it much harder work for the musicians to encourage everyone to get up and dance, and that in turn made it hard to really get into it. Hopefully other audiences will be a little more enthusiastic to get involved!
If you love The Beatles, and love a great gig, then definitely head down the Leeds Grand Theatre. Let It Be runs until Saturday 16th July.
Review by Sophie Joelle