Living up to expectations @ the West Yorkshire Playhouse
It's the Charles Dickens classic Great Expectations, the story of young orphan Pip who, thanks to a chance encounter with a petty criminal in the marches and his meetings with the forever-jilted Miss Havisham and her adopted daughter Estella, embarks on a strange and complicated journey to becoming a gentleman.
The first half of the show saw the young Pip during his time living with his sister, Missus Joe, and kind brother-in-law Joe (played convincingly though perhaps a little plainly by Bill Nash). Young Pip was played simply beautifully by Sullivan Martin, who was one of the most stunning actors in the whole show in my opinion. He brought believability to the role and held his own in some extremely difficult scenes, especially those opposite the wonderfully scary Magwitch (Ian Burfield).
All of the young stars of the show were marvellous. Rohan Green brought plenty of laughs to his role as Herbert Pocket, and Natalya Aspinall played a cold Young Estella with just the right amount of heartlessness.
For me, though, Rose Wardlaw absolutely shone. I didn't realise until after the show that she'd played two parts – the hilariously mean Missus Joe and gentle but loveable Biddy. The two roles were so contrasting yet she played them both magnificently. A fine piece of acting – I reckon we'll see Rose Wardlaw become a big name over the next few years.
The transition between Young Pip growing up to become an adult Pip was slightly messy. The actors were clearly quite uncomfortable with the singing routine, which meant it didn't pull off particularly well. However, once Daniel Boyd was in his stride properly he carried the role well ( though his accent was a bit off in places). He showed Pip's vulnerability and provided just the right amount of humour to allow the character to be loveable, yet still seem damaged in a way. Most of the humour, however, came from Patrick Walshe McBride as the grown-up Herbert Pocket!
Miss Havisham was played somewhat menacingly by Jane Asher. As a fan of recent television series, Dickensian, I had a clear image of how I wanted Miss Havisham to be: damaged and heartbroken to the point of madness. Asher, however, played the role differently, as if Havisham was a cruel and evil witch who had nothing but strange revenge on her mind. That's not to say her or Director Lucy Bailey's interpretation was wrong, it just didn't sit well with me, personally.
The adaptation by Michael Eaton seemed to play down some important characters such as Orlick (played brilliantly by James Barrett) and Drummle (Oliver Boot). This was such a shame as both Barrett and Boot shone in their somewhat small parts, and it seemed like a missed opportunity not to enhance their roles. Oliver Boot in particular really stood out and I think the production could have benefited from a few more scenes with Drummle and Estella (played strongly by Shanaya Rafaat, though not unusually so).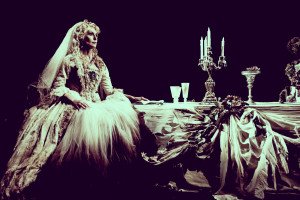 I think the set design and music contributed very heavily to the atmosphere of the production, and without such strong backstage work the production would have suffered. Designer Mike Britton did a staggeringly good job of utilising the revolving stage to its full advantage, constantly changing sets without the audience ever feeling jolted or confused. The set allowed the show to move seamlessly from one place to the next, from the marshes to the streets of London to various homes and other locations. I've never seen a set so well thought through and executed with such grace.
The multi-roling worked well in places (obviously very much so in the case of Rose Wardlaw). Jaggers/Pumblechook were both played by Shaun Prendergast and this worked well as both characters were very clearly defined and differing. I did have a bit of a problem in some of the crowd scenes when, for example, Joe suddenly showed up as a gentleman out on the town! It wasn't a major problem, though, and the number of actors on stage for big scenes allowed the stage to feel alive and buzzing with energy.
I would recommend going to see Great Expectations. At times the script seemed a bit expositional, but the acting and set design more than made up for that.
The show runs at West Yorkshire Playhouse until 2nd April – don't miss it!