November's column kicks off with news of some incredible reviews for Salena Godden's LIVEwire album, including 5* in The i Paper, as well as these reviews in Prowl House and Empathy Library. This comes at a time when 'The Good Immigrant' is also making waves— it was featured as Radio 4's Book of the Week recently, and Raymond Antrobus's review was retweeted by JK Rowling.
It's a busy time for Salena: she collaborated on this version of 'Shade' on a Durham Book Fest residential, stole the show at Manchester Lit Fest, chatted to Joelle Taylor for the Poetry Society's podcast, and saw 'Cahier Africain' win a couple of prestigious awards. Oh, not to forget her appearance at National Poetry Day (which was reviewed here by N&T's Dylan Howell), and a support slot with Suzi Quattro. You can catch Salena in London and Wakefield later this month.
Elsewhere on the UK & Ireland scene, Sabrina Mahfouz launched her début collection How You Might Know Me, Dean Atta spoke about poetry and mental health on the Apples & Snakes podcast, George The Poet hit the road (here's a live review), Ireland's Lingo Festival highlighted the vital role that spoken word plays, and Lemn Sissay had some strong words in this interview. Oh, and this is a brilliant interview with Kate Tempest!
Poet turned novelist Paul Beatty won the Man Booker Prize, Laurie Bolger and Erin Bolens have been introduced to the Nationwide ad campaign, and Harry & Chris have announced some spring tour dates with Gecko. On the submissions front, we're welcoming poetry submissions for issue 3 of our quarterly SOAPBOX zine, and Nine Arches Press have opened their poetry submissions window.
The latest episode of the Lunar Poetry Podcast focuses on Bath and Bristol, plus there's a new episode of the Poets & Poetry Podcast. On the event front, N&T showcase in Derby on 25 November after successful nights in Huddersfield and Scunthorpe. The Good Times Xmas Edition takes place in Croydon on 12 December, Toria Garbutt is supporting Cobby & Litten in Leeds on 8 December, and tickets for December's Spit & Polish event on 18 December are flying out.
Over the pond, the #WhistleStopTour mirrored #JC4PM over here, in the lead-up to the US election. At the same time, Elizabeth Acevedo was stuck in a voting predicament. George Watsky thinks that poetry and politics are inextricably linked, and Amy Leon has some very powerful words on how to deal with sadness and rage in the wake of Trump's shock victory. We've also been introduced to some incredible poet/ activists, including Sonia Guiñansaca, Mwende Katwiwa, and Chinaka Hodge.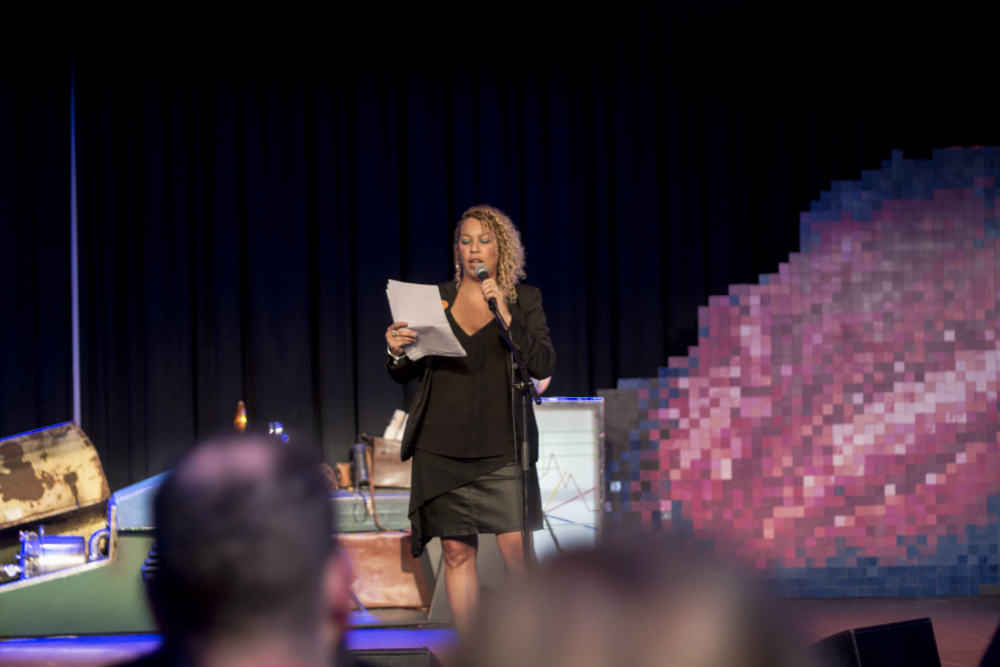 Dominique Christina's poetry explores black issues, as well as gender, social, and economic issues. Chicago's rising star Noname gave this interview, and we also received this insight into the world of Lydia Lunch, who is collaborating with The Last Poets. A Florida project called Poetry-to-Prison Pipeline looks to address the fact that more people currently live in prison cells than on college campuses in their state, and Get Lit Players have both published a book and hit the road!
Social media sensation and New York Time bestselling author Rupi Kaur speaks about using poetry to reclaim her body, having also read at Harvard recently, and this Bustle feature looks at a collection of Body Positive poems. Elsewhere, a whole host of poets responded to Bob Dylan's somewhat controversial Nobel Prize for Literature.
On the African scene, Dhaka Lit Fest panellist Vuyelwa Maluleke gave this interview, a wide range of Nigerian issues were addressed at Lagos Poetry Festival, and Chirikure Chirikure issued a warning to poets in Zimbabwe as their scene continues to struggle.
Finally, we have 25 poems that were inspired by pop songs, a fascinating feature on poetry being heard as opposed to read—exemplified by Kate Tempest's recent multi-format Let Them Eat Chaos released—and A Firm Of Poets are raising money for homelessness at Trinity's Big SleepOut event in London on 2 December, alongside Russell Brand and some chap claiming to be Foreign Secretary.