Review: The Rocky Horror Show @ Alhambra Theatre, Bradford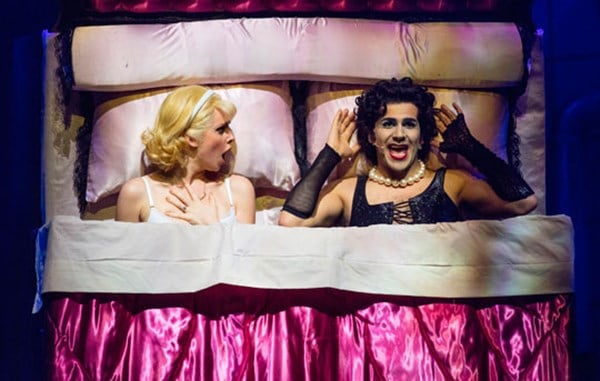 The Rocky Horror Show inspired a cult following of adventurously dressed fans, from drag to scarily-wigged and blood-splashed coated scientists. Under the funky direction of Christopher Luscombe this sci-fi, rock'n'roll musical comedy had the Bradford audience on its feet and dancing excitedly to the Time Warp. Other songs included Science Fiction Double Feature and the familiar track, Sweet Transvestite. Vocal from the outset, the Alhambra audience heckled at every unexpected opportunity. Improvised responses from many of the cast were witty and welcomed.
The innocent loved-up couple Janet and Brad – well cast by Diana Vickers and Ben Freeman – find themselves in a strange castle. As phantoms and sci-fi characters come out from the woodwork to play, they draw them into the Rocky family. Sue Blane's costume creations were unique and perfectly selected for the characters.
Liam Tamme as a very camp Frank-N-Furter dressed in fishnet stockings and suspenders, he exuded his sexually adventurous, yet sometimes uncomfortable to watch, explicit side. Slick scene changes, with pace and tempo incredibly upbeat, this show was highly energetic throughout. An outstanding vocal range and tone was fabulously executed by Kay Murphy who convincingly played the usherette and Magenta.
The lighting added to the well created set design and shadow contrasts on stage. The musical arrangements were pitch perfect and physically integrated like a jigsaw into the upper set. All in all this was a really well-produced show with an excellent cast. A word of warning of course, not one for the prudish.
Reviewed by Janis Sims on 15th March 2016 at Alhambra Theatre, Bradford. Touring see http://rockyhorror.co.uk/.