Review: Sir David Attenborough in conversation @ Doc/Fest
This is first and foremost, unashamedly, a love letter to the great Sir David Attenborough. As a child I remember being told to draw as many animals as I could think of by my year 4 teacher, and with great disdain being forced to erase my drawing of a sloth because the task in hand was 'to draw real animals not imaginary ones'. The Attenborough documentaries that I greedily absorbed as an inquisitive eight year old, allowing me to learn about nature and the world beyond the limits I found at school, were the same documentaries that I used to soothe my Sunday hangovers as an adult after an overindulgent Saturday night out. And so, hidden beneath the buzz of his recent visit to Sheffield as part of Sheffield Doc Fest, is an opportunity for me to profess my love for a longstanding national icon who has educated and entertained so many of us throughout the entirety of our lives. In the turmoil of recent weeks we've seen many struggle with the concept of national pride but in Sir David, our cultural grandfather, we are proud to call him ours.
This year's Doc Fest has been exceptionally strong with regards to its big name guests with Michael Moore, Louis Theroux and Tilda Swinton to name just a few. But the surprise announcement of Sir David's appearance just weeks before the festival was the pièce de résistance of this prestigious crowd. As a man who has transcended black and white to colour to HD to 3D TV in his nature documentaries alongside commissioning some groundbreaking TV for BBC2, his right as the most anticipated guest of the festival was well earned.
It's easy, too easy, for an event that received as much hype as this one, with tickets sold out the morning they went on sale and queues round the block for delegates trying to get in, to disappoint. However, the conversation with Sir David was completely captivating from start to finish. There was a strong rapport between Sir David and Charlotte Moore, the host of the session and the current controller of BBC1. As his vocational grandaughter the respect between the two over their shared position and beyond was apparent as Sir David celebrated Moore's achievements too as he indulged us with tales from bringing Jazz heroes to British prominence as controller for BBC2 to meeting tribesmen who have never met outsiders before. Highlights of the session's footage included a remastered colour film of Zoo Quest from the 1950s and a clip to whet our appetites from the eagerly anticipated Planet Earth 2, showing swallows in flight beautifully and hypnotically as is characteristic of so many of Sir David's programmes. He injected wit and sprightliness into all of his tales and inspired the audience with his plea to protect the Great Barrier Reef and its incredible diversity, and as if we couldn't love him enough I even heard a rumour that on his rider he requested nothing more than some sandwiches and a cup of tea.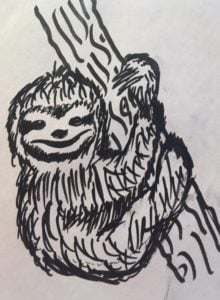 The conversation ended, as you might expect, with the most overwhelming standing ovation I have ever seen anyone receive. A thank you from the audience not just for a thoroughly enjoyable one and a half hour's conversation but for the 60 years of passion, knowledge and beauty he has shared with us all. So in my own personal thank you I would like to celebrate Sir David in the most fitting way I could think of, as his influence on wildlife reporting and the British media as well as my inquisitive eight year old self is so deeply inked in it will never be erased.