Sheffield's Tramlines festival is at the forefront of a growing trend; the inner-city music festival. While other northern competitors like Live at Leeds and Liverpool's Sound City offer something similar through emulating the outdoor festival experience in an urban environment, Tramlines festival truly manages to capture the buzz and beauty found at Britain's most prestigious gatherings in a way that combines the urban with the outdoors. Now in its seventh year, the organisers have take advantage of Sheffield city centre and its surrounding areas to host an array of international and local acts. This year saw the main stage being moved and upgraded from Devonshire Green to Ponderosa Park in order to increase the crowd capacity for its high profile guests, a fantastic decision which truly added to the festival experience. While the festival did used to be free to attend, a mere thirty pounds is a small price tag to pay for a weekend full of world class entertainment, something that almost the entirety of Sheffield gets on board with.
One of the greatest aspects of Tramlines is the vast variety of venues that are available to its festival-goers. Heading towards Sheffield's Cathedral seemed a great way to start the first full day of the weekend and what better way to be warmed into the day by one of Sheffield's own, Seven Tors. The Cathedral was full of light and several purple beams shot up the walls providing the perfect platform for Seven Tors to perform their bright songs, rich with locking vocal harmonies that bounced around the Cathedral's decadent room. While parts of the set were particularly ambient – something that was inflated by the surroundings – the large proportion of their songs were uplifting and pushed along by a particular attention to rhythm. The drummer made use of almost skiffle-like snare rhythms that guitarist and vocalist, Nicola Worthington, echoed with the natural rhythmic sound of her steel-stringed acoustic guitar. The band radiated a light-hearted sense of humour that complemented their songs; Nicola lightly jabbed at the band's only male member for forgetting to bring the hard copies of their EP, his only job. The band finished up with a tune called 'Dancing Feet', another uplifting number that had their Sheffield denizens swaying and smiling with the prospect of a great day ahead of them.
With some massive acts to come later on in the day, it wasn't long before leaving the Cathedral that we stumbled into one of Tramlines' fringe events, a completely alternate and free section of the festival's line-up hosting the best of up-and-coming and local talents. Sheffield's Peace Gardens had gathered quite the crowd who were ready and waiting for Sheffield's Concord Youth Performance Organisation. Playing a range of instruments from trumpets to xylophones, Concord stormed straight into a truly entertaining rendition of Pharrell's 'Happy'. Without the requirement of a ticket or a wristband, the fringe element of tramlines acts as a great opportunity for the city to come together and enjoy something in unison.
Whilst waiting for The Sugar Hill Gang at Tramlines' main stage – newly located at Ponderosa Park, a mere fifteen minute walk from the city's hub – we caught the end of the Renegade Brass Band's (RBB) set, yet another Sheffield band. Made up of 2 drummers, 8 horn players a scratch DJ and an MC, it was hard to ignore a resemblance between the Renegade Brass Band and Concord, the difference being that RBB were sharing a stage with music legends like Martha Reeves and Buzzcocks. It was at this point that I realised everyone that I'd seen so far on Saturday was Sheffield-based and this made me recognise the importance of Tramlines for the local music scene. Tramlines festival literally provides a stage for all ages to perform on and acts as a fantastic opportunity to propel the ambitions and prospects of local musicians. In 2014, RBB performed at the festival's old main stage, Devonshire Green. Their bump-up to Ponderosa Park this time around really highlighted the progressive opportunities available to groups like Concord.
While Renegade Brass Band's combination of brass instruments and scratching alongside punchy vocal lines acted as a great warm-up to The Sugar Hill Gang's set by getting people up and dancing, the classic hip-hop group would have been capable of conjuring up a whirlwind of energy entirely on their own accord. As soon as they entered the stage, the group had the crowd held like puppets; over 40 years in the game had certainly taught them a thing or two about entertaining. Not long into their set, the band flew into the classic, 'Apache' spinning large sections of the crowd into the classic dance, made famous by none other than Will Smith in the Fresh Prince of Bel-Air.
The Sugar Hill Gang's set paid homage to classic hip-hop, with the crowd being asked to give a 'hell-yeah' to a list of artists which made up the 'pyramid' of hip-hop, including Public Enemy and Kurtis Blow. In return the band paid respect to these artists through a series of covers and mash-ups, getting the crowd moving to Kurtis Blow's 'The Breaks' and having the whole park bouncing to House of Pain's 'Jump Around'. As if the presence of The Sugar Hill Gang wasn't enough, Wonder Mike and Master Gee were joined by legends, Grandmaster Flash and Grandmaster Melle Mel who were more than ready to join in the camaraderie. There was always a humour to The Sugar Hill Gang's set but the arrival of these classic hip-hop stars brought out real laughter amongst the Sheffield crowd. The pair even told the main stage crowd to get out their cameras, taking the time to pose in a range of 'classic' positions.
If Grandmaster Flash's 'White Lines' didn't have the crowd in high enough spirits, a rendition of 'Rapper's Delight' certainly did. The Sugar Hill Gang were a real highlight of the festival, possibly made better by the sun beating down on Ponderosa Park but predominately orchestrated by extremely experienced veterans in crowd-entertainment.
Not only does Tramlines boast a wide variety of venues, from cathedrals to parks, it also plays host to a massive range of genres. Taking stage at a similar time to The Sugar Hill Gang's Saturday afternoon slot, Sunday saw Ponderosa Park welcome one of Britain's most influential punk-rock bands, Buzzcocks. In stark contrast to the sun that kissed the park the day before, Buzzcocks walked on stage to bleak and steady Yorkshire rain. However, this did nothing to dampen the spirits of the crowds that had gathered. If anything it added something brilliantly British to their set, which was bounced back from the stage by Steve Diggle's Union Jack amp drape.
Buzzcocks opened their set with a cutting rendition of one of their earliest tracks, Boredom, instantly and ironically captivating the Sheffield crowd. Buzzcocks mirrored the age-spanning demographic of the crowd by playing a mix of older and newer material, throwing in more recent releases like 'People Are Strange Machines' and 'Sick City Sometimes' alongside classic tracks like 'Harmony In My Head' which had the older generations chanting along. The band appeared to have a great time and emanated a youthful and boyish energy from start to finish. Diggle in particular flung himself round the stage, jumping with his guitar and swigging from a large pint-like glass of champagne while Pete Shelley looked on with a fraternal smile. Towards the end of the set, the band popped out an almost compulsory performance of 'Ever Fallen in Love (With Someone You Shouldn't've)' – which saw the crowd at its loudest – and moved on to finish with a raw version of up-tempo track 'Oh Shit'. While the weather conditions and genres of The Sugar Hill Gang differed dramatically, both acts performed with a real class that highlighted years of experience in the industry. Tramlines' organisers had done a fantastic job in getting such high profile acts to their main stage, both of which were brilliant festival acts which added to the infectious festival buzz.
From Ponderosa Park, we made our way towards the city centre and towards Sheffield's City Hall to see another of Sheffield's vast assortment of bands, The Downtown Roots. After descending down and down into the deep underground of the City Hall, the three-piece entered the stage and flew into their set. First impressions of the band were similar to one of Jack White's many projects, The Dead Weather, however; as the show went on, the group moved into a more traditional blues set-up, largely avoiding White's notorious saturated, fuzzy guitar tone and instead utilizing the glorious tones of a vintage white Marshall amp – which was, incidentally, released before the company moved towards their iconic, italic font. The Downtown Roots' influences were clear; Hendrix and Page had obviously had a gigantic impact on the band, especially their extremely talented guitarist and vocalist, Moz. In case these influences weren't clear, about half way through their set, Moz went on to talk about the importance of Hendrix to his playing style and highlighted that both Jimi Hendrix and Jimmy Page had played on the same stage they were standing on, an obvious dream-come-true for the guitarist. As a blues band, dropping big names like Hendrix can be a bit of a faux-pas unless of course you entirely smash your set, and this is exactly what The Downtown Roots did.
Alongside a phenomenal cover of 'Little Wing' and another blues classic, 'Hoochie Coochie Man' by Muddy Waters, the band performed a series of originals which mesmerized the crowd. Original track, 'Doll', in particular, exhibited the bands riff-writing skills and technical proficiency, with the rhythm section providing a tight platform for Moz to wail through lead parts. In their last song, the band brought on saxophonist, "sax-Bob", who Moz proceeded to battle out licks with. The band's set was so good that the City Hall demanded an encore, with crowds stomping their feet on the floor and whistling loudly. Clearly taken aback by their reception the band reemerged onstage, sax-Bob still in the line-up, and exclaimed "fucking hell!" It was at this late stage that Moz showed the first sign of an ego, which by this point was more than deserved. Standing on the crowd barrier in front of the stage he brought the band down to little more than a whisper and then climactically crashed out one last passage of pure class in perfect cohesion; a real highlight of the whole festival.
For good or for bad, Fat White Family are one of those bands that have gathered a lot of attention along their way and left a trail of stories in their wake. Frontman, Lias Saoudi, is notorious for his onstage antics, whether that be writhing around the room or getting completely naked. While the band remained at least partially clothed for their Tramlines slot at The Leadmill, their live show certainly lived up to their reputation. After seeing the band at Glastonbury's Shangri-Hell stage at around 6 in the morning just a few weeks ago, the more traditional gig room of The Leadmill was a welcome change, with the buzz of the crowd being incarcerated in the room. The anticipation of the audience was lifted as the band emerged with ravaged eyes and flew into their set. Lyrical content and song titles aside, Fat White Family's debut album, Champagne Holocaust, exhibits a considerable amount of mellow material. Opener, Auto Neutron, in particular shows the bands softer side with steady percussive elements and pulsing guitar parts. Their live set, however; was frantic from start to finish and this was made up by a combination of factors. Lias didn't stand still for a moment, screaming to himself and gyrating his body like he was mid-seizure; the vocal takes he did for the album had gone out the window and were replaced by sporadic and creative expulsions of angst that appeared to be held deep down inside him. Propped up by an ensemble of musicians that were playing just as hard as Saoudi tested his vocal chords, Fat White Family's show was exquisite.
Clearly inspired by bands like The Brian Jonestown Massacre, both in image and in sound, the group's set was ripe with slap-back guitar delays and discerning keyboard parts that complemented squawking lead guitar. Lias seemed possessed throughout the whole performance and sang in an exasperated manner, something that is captured on the studio version of 'Is It Raining in Your Mouth'. With content ranging from the shooting of Lee Oswald to bombing Disneyland, Fat White Family are clearly fucked off at the world and they do a great job of expressing this. Towards the end of the show the band dropped the track, 'Touch The Leather' which had the whole room singing along to the catchy and simple vocal melody almost as if they'd been brought round to Fat White Family's way of thinking. Where many bands these days try too hard to recreate live versions of studio material, Fat White Family's show felt refreshing and authentic.
In contrast to Fat White Family, Slaves' Friday night set disappointingly fell into this exact bracket. The band churned out their material in a way too distinguishable manner, lacking any real variance from studio work and failing to take advantage of the depth that can be created from live performance. While drummer and vocalist, Isaac Holman, added little, humorous, anecdotal introductions to several of their songs, including 'Where's Your Car Debbie' and 'Hey', even these were un-original. Having seen the band play at the John Peel tent at this year's Glastonbury – a set which I thoroughly enjoyed – I noticed that their Tramlines set was almost a replica of the set they had played a few weeks ago; from the song introductions down to the point where guitarist and vocalist, Laurie Vincent, set up a guitar loop and both members surfed across the crowd. The performance came across over-rehearsed and this made it come across slightly gimmicky. For a band with a sound as raw as Slaves, I expected an equally raw live performance that included some authentic energy as opposed to an orchestrated duplication of their studio work. Nevertheless, it would be unfair to say that the band didn't please the crowds and put on a good show. Indeed, both Isaac and Laurie succeeded in getting the crowds that had gathered on Friday moving with their crunching guitar tones and raspy vocals. I did also happen to find myself singing Slaves lyrics over the weekend as I walked from venue to venue.
Within a similar calibre to Buzzcocks and The Sugar Hill Gang, Saturday evening saw Ponderosa Park blessed with the presence of none other than Martha Reeves. On the line-up, the motown queen was listed under her name alone, leaving out her band The Vandellas, and while many of the original members of her band no longer join Martha on-stage, she filled Ponderosa Park with a full band complete with backing singers who soulfully swayed themselves through the show. The result of Reeves' full stage was a fantastic, deep sound which Reeves utilised to throw her voice across the park and perform a set full of motown classics. In true motown style her set included a series of covers, notably 'Signed, Sealed, Delivered, I'm Yours', a track written by Stevie Wonder, and a cover of The Four Tops' 'Reach Out, I'll Be There'. Executed with true class, Sheffield's response to Martha Reeves was to dance through the whole performance, adding further to the atmosphere that was clearly being enjoyed not only in the crowd but on stage too. While Martha Reeves acted with an heir of sass throughout the whole performance, the end of her set saw her sassy attitude peak. Told she only had time for one more song, Martha retorted by exclaiming, "I'm gonna take as long as I need!" At this point she broke into a medley of classic tunes starting with one of her most well known tracks, 'Dancing in the Street'. As the medley came to an end, Martha was led off the stage, still dancing, just like the crowd that was watching.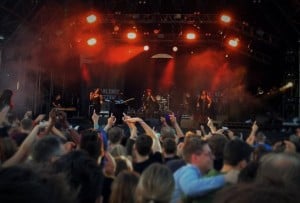 With queue times for toilets, bars, access to the main stage and other venues like The Leadmill getting rather large over the weekend the organisers of Tramlines have accepted that they have some things to learn for years to come. It would also be nice to see the festival make more use of readily available social networks like Twitter and Facebook to do more frequent updates of stage times and other alterations in the line-up. However, for the most part the organisation of the festival was spot-on. Bearing in mind that Sunday night headliners Wu-Tang Clan dropped out of the festival at some point on Friday, responding with both Mobb Deep and De La Soul as substitutes was phenomenal. Performances from both acts were, like so many of the sets I'd seen at Tramlines, top class.
Mobb Deep's set spanned a wide range of material, each track separated by almost comical gunshot noises. Notorious for their hardcore sound, Mobb Deep covered the heavier side of hip-hop performing tracks like 'Shook Ones Pt. II' and getting the Sheffield crowd to bounce along. Mobb Deep's performance was thoroughly enjoyable and with just DJ decks onstage, the changeover between penultimate and headline slot was seamless and quick, allowing the crowd to hold on to the energy that they had gathered throughout the set. While Mobb Deep's darker sound went down well with the crowd, De La Soul took the show to the next level. Not long into their set, the group stopped things in their tracks and got all the photographers and stage managers to quit what they were doing and instead dance and enjoy themselves, stating that 'the only three people working should be the people on stage'. De La Soul wanted to make sure that absolutely everybody – with no exception – had a good time and they were more than successful in achieving this, creating a real party vibe from start to finish.
Midway through their set, the trio had the crowd in full swing like it was the pinnacle of the festival as they dropped classic track 'Me, Myself & I'. Recognising that a lot of their material was written and released before the crowd were even born, the group seemed truly humble that Ponderosa Park was having such a good time, with the 1991 track, 'Ring, Ring, Ring (Ha Ha Hey)' going down particularly well. While Mobb Deep stormed through their set in a professionally succinct style, performing a wide spread of material with tight attention to detail, not much attention was given to hyping up the crows. De La Soul, on the other hand, were playing the game throughout the whole performance, splitting the crowd in a set-long cheering competition. Alongside their repertoire of tunes, the trio made use of timeless techniques to get the crowd partying and ensured that even if you had never heard of De La Soul, you were going to have a good time.
Tramlines is an inner-city festival which has taken its own subgenre to the next level. Through combing venues in the town centre with its open spaces like Ponderosa Park and Devonshire Green, the festival blurs the lines between city and field. Not only does Tramlines exhibit a fantastic selection of music – including extremely high profile and experienced acts – the festival also succeeds in transforming the city from an industrial, working town to a non-stop hub of entertainment. This is one of the reasons the festival is good: from the bars on the outskirts of the city that host a full weekend's worth of smaller bands to the tenants of the balconied flats that overlook the main stage at Ponderosa Park, everyone in Sheffield seems to get on board with Tramlines.
David Campbell Olson
[All images by: David Campbell Olson]
Filed under: Music
Tagged with:
2015
,
buzzcocks
,
city
,
concord
,
de la soul
,
fat white family
,
festival
,
grandmaster flash
,
martha reeves
,
mobb deep
,
renegade brass band
,
seven tors
,
Sheffield
,
slaves
,
sugar hill gang
,
tramlines
,
urban