Interview
'Todmorden: A Circle of Kindness Grows' – interview with writer Emily Oldfield
Kindness. Not something you can easily put your finger on. A stranger's smile on the bus. A random note from a colleague at work, just to check in. Local sandwich shops donating free lunches for kids.
In a world of increasing social and economic inequality and rising mental health issues, I'm sure I've not been the first to notice that these random acts of kindness can make all the difference.
It is not surprising then that our artistic communities are exploring the concept with vigour. Take Free Word's 'How To Be Kind' season, a programme of online events, workshops and writing based around active altruism.
'Todmorden: A Circle of Kindness Grows' is part of the bill. A comic created by writer Emily Oldfield and illustrator Charlie Fischer, this charming, innocent piece is a sort of unofficial, visual tourist's guide to the 'kindness town' of Todmorden, which is situated right on the border of West Yorkshire and Lancashire.
"I've always been really interested in engaging with subcultures and uncovering lost stories", explains Emily, when I asked her how the project came about. Emily grew up nearby in Bacup in the Rossendale Valley and having moved to Todmorden earlier this year, she told me she feels very much at home. Todmorden's not as well known as places like Hebden Bridge, but it's such an amazing community and has so many stories to tell."
Local restrictions and social distancing meant the collaboration was always going to be challenging, and Emily and Charlie put it together without ever meeting face to face. Emily sent Charlie photographs of the town and interviewed the residents to help fill in the gaps.
"Charlie's style is really colourful and full of characters, and I knew it would bring Todmorden to life," shesays. "A comic allows you to gather your own sense of a place and interact with it in a really fun way. That's what we've missed in this pandemic – spontaneity and fun."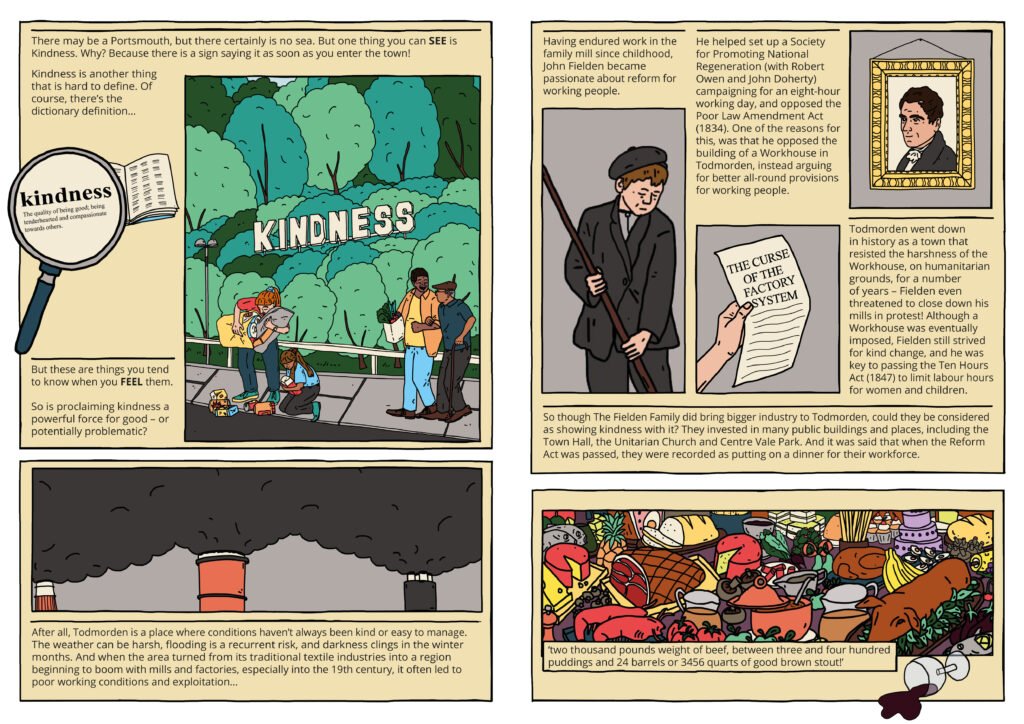 The comic introduces us to groups such as Incredible Edible Todmorden, a well-established collective of local volunteers who grow food for the town, look after the community gardens and provided communal meals in pre-COVID times. The piece also features The Golden Lion, something of a local institution. Emily proudly tells me that this pub has hosted live impromptu DJ sets from Andy Weatherall and Irvine Welsh. During the pandemic the owners also ran a 'kindness corner', a swap shop for people to give and take what they needed without worrying about exchanging money.
"The amazing thing about Todmorden is you feel connected very quickly," explains Emily. "I walk in the hills a lot and no one cares if I turn up in the local pubs muddy or drenched through. There's also a great, slightly weird energy about the place. There was a knight in shining armour with a torch walking through the town a few weeks ago and that's just standard here. Anything goes."
Todmorden has had a tough run of it, with a long history of flooding and the devastation brought by Storm Ciara earlier this year. The comic documents the many ways the town has pulled together, including The Basement Project which offers support for those with drug and alcohol addiction and Your Tod Squad, a group of volunteers who've been doing people's shopping and running errands during the pandemic.
"Kindness isn't prescriptive," says Emily. "I think kindness at its most genuine is when nobody owns it and it just emerges in the every day acts people take for granted. There are always sceptics, but no one is imposing anything on anybody here. It's just nice to be nice."
In a tricky year, this comic is a celebration of a town that puts its community first. It is a lovely visual piece in itself and when it comes to being kind, not a bad blueprint for others to follow.
See 'Todmorden: A Circle of Kindness Grows' in full here and find out more about Free Word's 'How to Be Kind' season.