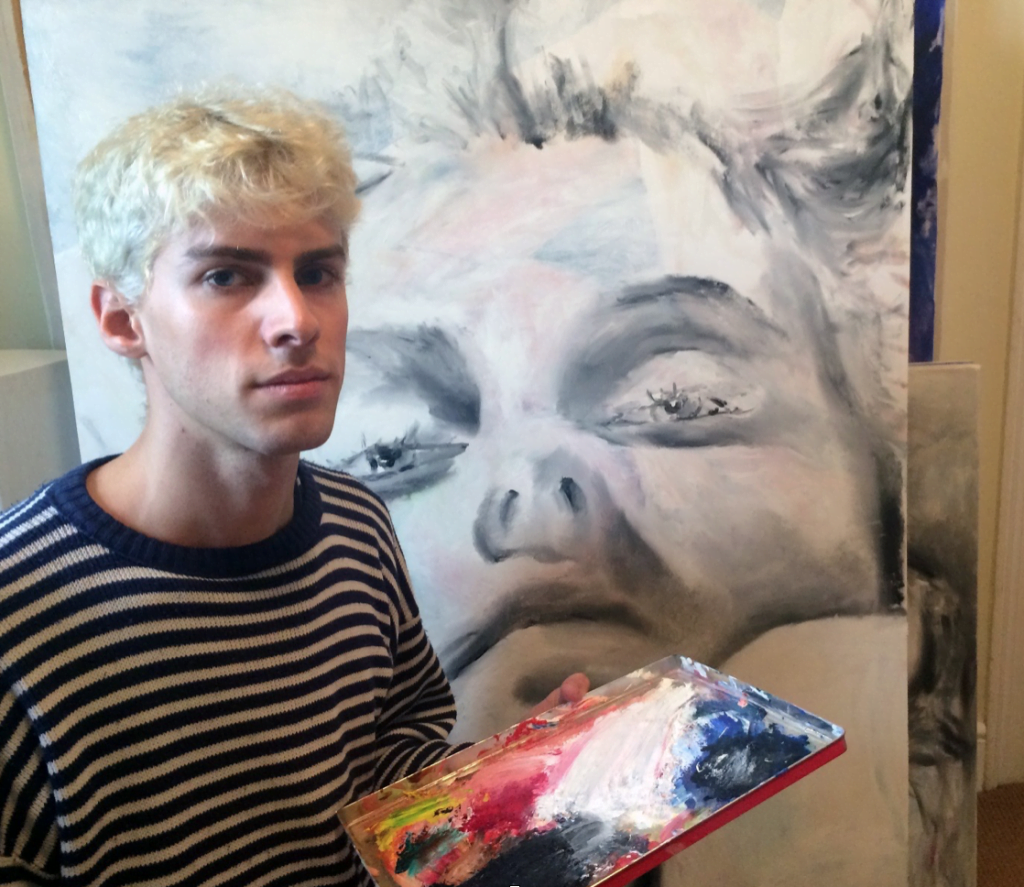 I first came across Michael Ostromooukhov (who I now affectionately know as Micha) at one of those trendy but obscure East London gallery openings. There were a number of artists on show, but Micha's work stood out – there was an explosion of emotion on the canvas, a rawness to what was being seen. He's now represented by the Agora Gallery in New York, and impressively is self taught as a figurative painter. The fresh faced 25-year-old now bases himself between London and Kent, although his life has been truly global including Boston, Montreal, and the very beautiful Rennes. Here's what he had to say about London.
Describe London in three words
Rewarding – London is very flexible, a place where you can have the highest ambitions and where it's very likely to be able to do that one thing you want here. In smaller places, you can hit a ceiling, but it's very difficult to do that in London. Fun – simply, there are great parties in London. Beautiful – I mainly refer to the people, but I also love the architecture.
You're also free to be whoever you want to be, and that's very liberating.
What/who inspired you to do what you do?
Dali. He referred to artists such as Velasquez, Vermeer and Raphael, which in turn helped me become interested in other forms of classical art. I think it's Important to take ideas outside of their context and make art accessible from a completely different point of view. For example, he was also interested in science and included this in his work; he linked up ideas that aren't connected and brought them together.
What was the song of your youth?
That's tough! But there is one song filling my head right now – Babooshka by Kate Bush.
What do you love about what you do?
Mixing concepts together. Also, I paint and do my projects for the love of them rather than having to please anyone. I'm independent in that respect and it gives me freedom. I don't have a gallery telling me what I need to sell and driving me financially. Art is a difficult market for someone new, starting with no formal background. If a few people find some meaning from it, that's all I want from it.
And hate?
My main frustration is that a couple of years ago, one way to do stuff was to go to an academy and go to schools/be a part of a clique. It can be perceived as elitist.
What makes London's arts and culture scene unique to you?
It's quite dynamic here, you can meet people and they may be a musician, writer, etc. Never take people for who they are on face value when you meet them, as they could very well become the next big thing! I find that very interesting and gives you more respect for people in general.
Who should we be keeping an eye out for (on the arts and culture scene)?
Although not London, there is a visual artist in the US called Winston Chmielinski. Although he may be in Berlin now (he is after I checked). There is a very interesting mix of figurative and abstract elements in what he does. Musically, I enjoy the electronic music scene, but I always discover everything so late! I enjoy Disclosure, Tom Trago (Netherlands), Julio Bashmore (Bristol).
What's the scariest thing you've ever done?
I wish one day to jump out of a plane and parachute down. I need to conquer that fear first! I also have stage fright, if I'm expected to do something in front of people. It makes me feel so vulnerable.
Share something about you that would surprise us!
For those who don't know I'm into art, it would surprise them. But I used to make musical instruments, mainly guitars and also a lute. And I learnt to play the sitar in Montreal! My teacher was this guy who was once a maths teacher, then dropped everything to go and learn it in India and then came back to Montreal. He was amazing, really one of the most zen people I have ever met!
What's your favourite spot in London?
I do tend to go to GAY Bar a lot. It's such a fantastic place, right in the centre of Soho and so cheap! It's nice to go somewhere and not have to think about money too much when you go out for a drink in London. It really does affects people's behaviour.
Who do you love to follow on Twitter/Instagram?
I'm so bad at it. I started using Facebook a bit more, to help build up the art thing. Apart from that, I really only use them to get in touch with friends. I had to do a lot of social media in my previous job, so it's nice to get away from it.
What's the last country you visited?
France – I went back for my mother's birthday. Also went back a few weeks before to do a little tour of France and go back to Rennes – it's such a beautiful place.
Who would you want to play you in a movie of your life?
Napoleon Dynamite (aka actor Jon Heder). People think I am like him and the character he plays. It's someone who lives a tedious life but is very funny. He is very blasé.
What are you doing after this interview?
I'm going to meet my friend for some ramen (Micha is a lover of Japanese food). And then probably have a few drinks in Soho.
Micha has an upcoming show in London, A Place in Between at the Espacio Gallery, 23-28 February 2016. Private View: Thursday 25 February 6-9pm. 159 Bethnal Green Road, London, E2 7DG. Visit Micha's website at www.micha.org.uk. You can follow him on Facebook here.