Review
Allusondrugs // Hands off Gretel // Chambers @ Leeds's Key Club
I'm filled with anticipation. Allusondrugs have been on a UK headline tour all winter and this is their homecoming show. The best surprise with independent venues such as The Key club, is the atmosphere. It just can't be replicated in arenas or academies. Yes, you can dance and get sweaty in all venues, but the band will be ten feet away behind a barrier. Tonight the bands and the crowd would blur, all of us letting our guards down to crowd surf, sing and some in the front would share drinks with the bands.
It's all in the magic of catching these bands early. Let's clear this up before we go any further, behind the grunge and independent exterior are three tight, exciting and well-rehearsed bands.
The bands on show have attracted one hundred or so, ranging from middle-aged men and women to teens, all sharing the same amount of energy and excitement. Personally I'm interested to see how Allusondrugs have adapted without their second guitarist, Damian, and how their other guitarist, Andrey, will be able to fill the spaces he's left.
The opening act, Chambers, the self-defined "sister doom duo" give some art-goth vibes in both the singing (permitting intervals of screaming) and the image. I don't know whether this is intentional but it works and I wish them all the best. The pounding drums and "chugging" guitar saw a head banging, pogoing, and satisfied audience.
The second band, Hands off Gretel, really did catch our attention. This four-piece looked exciting, combining Goth, grunge, and some pirate-viking hybrid hairstyles, these guys were full of confidence from the get go, evidenced with something simple like talking with the audience, which sounds trivial but it's an absolute must for any new band.
Despite a topless male bassist (who actually pulled that look off) the crowd were naturally fixated on the frontwoman— photogenic and charismatic, but that voice… Hands off Gretel state they are a band for those who like "Hole, Babes in Toyland, and L7…", but comparing her vocals to those of Courtney Love is quite frankly doing this frontwoman a disservice. The points of reference for me were somewhere between Bjork and Black Francis of the Pixies. Effortlessly gliding from low screams into falsetto and screeching whilst all the while fighting off apparitions with her eyes. It seemed as if she were living through the visions of the songs whilst sharing them with us. There's no denying that this band believe in everything they play. The bassist and guitarist both with enough energy between them to ignite the room and the drummer keeping all of that energy in the solid, heavy drum grooves. After all, the crowd don't dance to the melodies or the lyrics, they dance to the beat.
By this point everyone is warmed up and ready for the final act of the night. Their reputation precedes them, but I am still to witness the new four-piece line-up. After a quick welcome they quickly jump straight in. Frontman Jason is laid back until the killer riff of opening track 'Stir' rips the crowd into a frenzy. The difference of a single guitar is noticeable, taking the rough, distorted edge off the rhythm sections to make way for a more ethereal or shoegaze sound. There is also just more space, both on the stage and in the sound.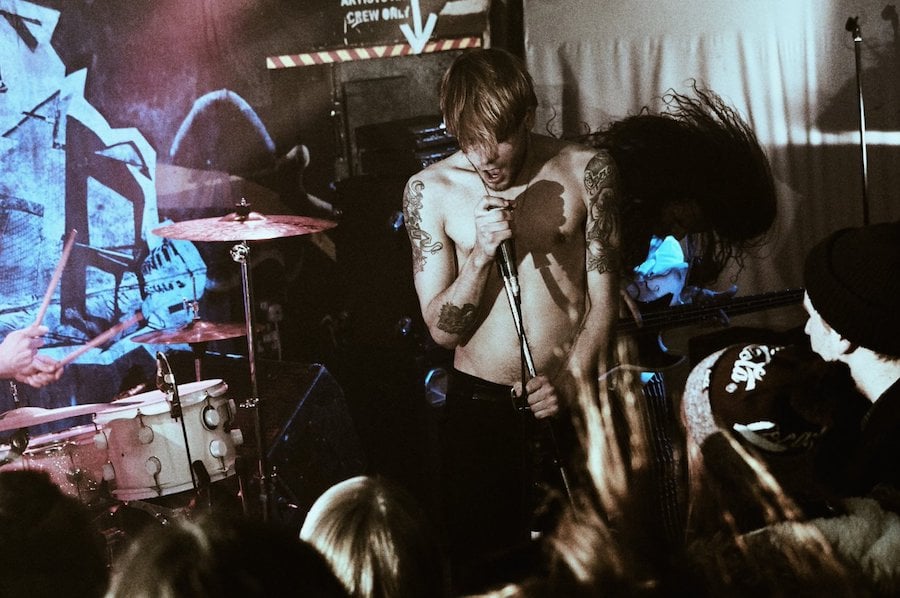 The majority of the heavier riffs are created and held together by the heavy, fuzzy bass and the groove of the drums, (Jemal and Connor, respectively) which gives Andrey a time to focus on his arpeggios and vortex effects. There are questions appearing. Could this be the beginning of a new, more melodic direction? Will we hear some guitar from Jason (above)?
One things for sure: Jason's vocals have lost none of their fire, being just as strong as his studio performances. As I said before, these may be unjustifiably small bands but they are incredibly dedicated and well-rehearsed. Mistakes are kept to an absolute minimum during the entire gig. An interesting development and something I've wanted for a while is the lifting of their ban on older material. These older songs, such as 'Uni' or 'Plasters' are the slightly more "sing-along" songs, but they really give this band a chance to capture a bigger audience and then drag them into the euphoria of 'Sunset Yellow' or the incredibly catchy ear worm that is 'Am I Weird?'
If I had to sum up this band's general vibe, I'd describe their heavier, grunge side as dangerous and raw as a one night stand, but they balance this with their shoegazing, psychedelic side which is as warm and embracing as the cuddling after. Just see them when you can.
Find out more about Chambers, Hands Off Gretel, and Allusondrugs on their Facebook pages.