Film Screenings @ Left Bank Leeds
[Image courtesy of leeds-list.com]
The Left Bank – a former church in Headingley – will be screening 'To Hell With Culture' next Wednesday 12th August, amongst a mix of other short films. Directed by Huw Wahl, the title of the film originates from an essay by Sir Herbert Read, originally published in 1941. Read was an influential art critic, curator at the Victoria and Albert Museum, as well as co-founder of the ICA in London in 1946. He had been a member of the influential Leeds Art Club in 1912, and he wrote extensively on art history, the theory of art and its importance to society. His later writing focused on expressive cultural forms, from cave paintings and tribal objects, to abstraction and surrealism. He has been traced as an influential figure in the careers of Yorkshire artists Henry Moore and Barbara Hepworth. A self-confessed anarchist, he controversially accepted a knighthood in 1953.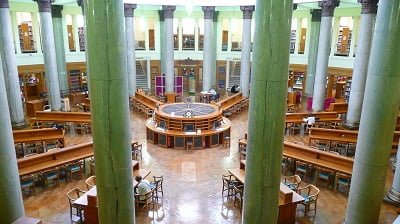 [Image courtesy of norlight.wordpress.com]
Following his death in 1968, The University of Leeds later acquired Read's entire library, including many rare and personal items, with the help of a Heritage Lottery Fund grant in 1996. It is now displayed in the University's Special Collections archive in the Brotherton Library, which is located in the University's iconic Parkinson Building (opened in 1951) and is open to the public by appointment.
This film by Manchester-based film maker Huw Wahl, supported by the Arts Council and made with access to unused TV footage, offers the viewer a rare insight into Read's life and work. The film includes interviews with artists, curators, historians and his own children, together with unseen archival material, readings of his poetry and scenes of the Yorkshire landscape where he was born, reflecting on how his ideas can be applied to contemporary society today. Having been screened at the Leeds International Film Festival last year, Sir Herbert Read's legacy has recently been experiencing favourable attention.
Left Bank have also chosen four short films to accompany this documentary, all loosely based around the same ideas of Modernism, Art, Poetry and Yorkshire.
'A Communications Primer' will be shown first, lasting around 20 minutes. Directed by Charles and Ray Eames, it has previously been screened at an exhibition at the Barbican in London in 2012 called Bauhaus: Art as Life. The film explores the notion of applying a schematic diagram of communication to the experience of art. Independent events' organiser Laura Ager commented on the beauty of the suggestion that the receivers of art's coded messages are:
"all the eyes, nervous systems and previous conditionings of those that see the painting"
…its destination?
"Their minds, their emotions, their experience".'
[Image courtesy of @Jomotopia]
There will also be three other short films showing ahead of 'To Hell with Culture', all of which are included in the £3 door price, and there is no need to book. The schedule will be as follows, with the doors opening at 7pm in preparation for the first screening at 7.30pm. 'To Hell with Culture' will be screened at 8.30pm.
A Communications Primer (22min, 1953, Dir. Charles and Ray Eames)
Hunting for Hockney (4min, 2013, Dir. Alice Dunseath)
Crow (5min, 2103, Dir. Yoav Segal)
Modern No 2 (5min, 2011. Dir. Mirai Mizue)
Malak El-Gonemy
For more information about the event visit here: