Review
Cri-de-Coeur & Plus ça Change: Jonny Magnanti performing V Reviewed
Back in the day when bus stations were bus stations and not pubs, when cemeteries were graffiti ridden and the streets of Leeds rang to the combined holler of the National Front and the Anti-Nazi League, I used to wish I could escape to London — whatever London was it just seemed bright and mythical — and shed this skin that kept me here.
I did do that, but I returned to a new Leeds of expensive shops, craft ales, news outlets and commercial renaissance.
In the Carriageworks theatre to see Jonny Magnanti perform Tony Harrison's poem V, an impassioned Leeds audience was right back where we might have begun, Stiff Little Fingers' Alternative Ulster blasting out, Thatcher's voice telling antisocial horror stories, Scargill's defiant cries of 'no way' and the pronouncements of the Coal Board ringing hollow in a place where kids now wouldn't recognise a lump of coal if it tried to shake their hand in the street.
A Leeds lad, Jonny Magnanti inhabited the role with a finely balanced intensity that was both more nuanced and edgier than any smoothly scripted certainty could be. The tiny ellipsis between the cadence of a poet's rhythm and rhyme and the ebb and flow of the human voice challenges an actor reading V and provided a delicious knife edge for Magnanti to tread. His eyes fixed on the audience, and ours on his, Magnanti — and Harrison — walked us back to a place that was both singular in its insistence on its working class provincial location, and a representation of a modern geo-political dystopia.
Magnanti's careful removal of his jacket and unfurling of his scarf, the quiet despair with which he lay daffodils on the spray painted grave of mam and dad, were touching. The hand in pocket walk of the middle aged exile counting the hours until he could leave his no-longer-home in Beeston ("I only had an hour between trains"), the repetition of the mantra that his woman waited for him and a fire glowed in the hearth in his now-home, were bitter sweet and replete with discomfort. Can we ever reconcile our wider view of the world with the ties that bind us to our roots? Does education both alienate and empower us? Where do the dark and angry voices go, and how do we defend what we hold dear against torrents of chauvinism and the all too real attractions that violence and bloody mindedness offer?
This pen's all I have of magic wand.
I know this world's so torn but want no other
Magnanti's Tony veers between assertion of his present self and impassioned addresses to his former self:
Jobless though they are how can these kids,
even though their team's lost one more game,
believe that the 'Pakis', 'Niggers', even 'Yids'
sprayed on the tombstones here should bear the blame?
Magnanati's performance was cheered long and hard to the strains of Marching on Together, and was followed by a panel discussion chaired by the Yorkshire Post's culture correspondent Yvette Huddleston with Magnanti, author and journalist Anthony Clavane and Professor John Whale, Director of the University of Leeds Poetry Centre.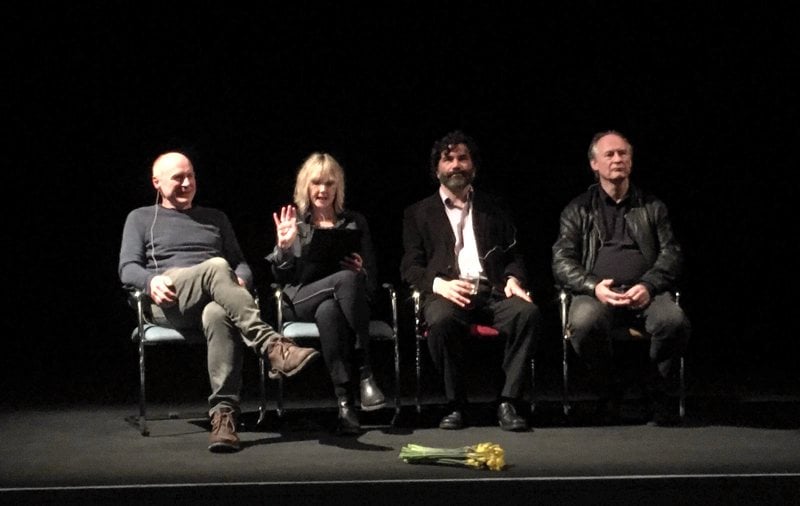 This was my Leeds, this is all our Leeds, this is the place we find ourselves in now. Where Harrison's Tony says "cri-de-coeur" and gets a mouthful of abuse for it, I'd say plus ça change and probably elicit the same. It was something to behold, this defiant recreation of times past that illuminated times both desperately present and utterly relevant.
■
Karen Tobias-Green is a writer and course leader of Creative Writing at Leeds Arts University