Podcast
Looking ahead to Leeds Lit Fest 2022 – podcast
Leeds Lit Fest returns in 2022 for a programme packed with the best literary events and performances the city has to offer. Writers, artists, organisations and venues across Leeds will come together between Feb 26th and March 6th for one of the UK's most unique cultural festivals.
Ahead of LLF 2022, TSOTA hosted a special conversation with some of the key figures involved in this year's festival and the thriving literature scene in Leeds! Coordinated by Molly Magrath of Leeds Library, the discussion features Jack Simpson of Hyde Park Book Club, Poppy Jennings from Leeds Poetry Festival, author Dan Coxon, Amanda Truman of Truman Books and Zoe Turner from Comma Press.
In this wide-ranging discussion, the guests explored the growing role of literature in Leeds' cultural landscape and what impact the festival will have.
You can listen back to the full conversation through our podcast via Apple Podcasts or the player below!
Catch our guests at Leeds Lit Fest by checking out the programme and follow the LLF Twitter to find out more.
Keep up to date with our podcast guests by following them on socials:
Molly – @theleedslibrary
Jack – @JackLSimpson @HPBCLeeds / @hydeparkbookclub
Poppy – @plajennings @leedspoetryfestival / @poetryleeds
Dan – @DanCoxonAuthor
Amanda – @trumanbooks / @trumanbooksleeds
Zoe – @zoelizturner @commapress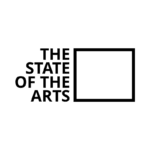 Filed under: SeeHearRead, TSOTA Podcast
Tagged with:
Comma Press
,
Hyde Park Book Club
,
interview
,
leeds culture
,
Leeds Festival
,
Leeds library
,
Leeds Lit Fest
,
Leeds literature
,
Leeds Poetry Festival
,
literature festival
,
LLF2022
,
podcast
,
roundtable
,
Truman bookstore