Review
Modern Japanese Design @ Manchester Art Gallery
It's impressive if a country succeeds in one area of design, yet Japan manages to succeed in several. Beautifully crafted clothes, furniture, lights, jewellery and ceramics all feature in the Modern Japanese Design exhibition at Manchester Art Gallery. What is striking about the exhibition is how the different creations exist together in harmony, despite the different materials and ages. Dates become irrelevant when it comes to Japanese design—a vivid red plastic cabinet from 1970 is shown alongside a 2014 woven stool made from the more traditional material of bamboo. Japanese designers can both propel their products into the future and take inspiration from the past.
Dresses designed by Issey Miyake, Yuki and Comme des Garçons highlight Japan's contribution to the world of fashion. The designers experiment with fabric to create iconic designs—material is formed into crisp pleats, padded to make soft shapes or simply carefully draped. The occasional dress and jacket is suspended from the ceiling, rotating slowly to show off every angle. Black jackets hang alongside bright white lights, their forms echoing each other. The future of Japanese design is hinted at in origami-inspired lamps by Issey Miyake, made from recycled plastic bottles.
The ceramics and glassware were perhaps designed with form, rather than function, in mind. But the result is exquisite shapes which highlight the versatility of the materials. Bowls and vases feature holes and spikes, giving them the appearance of coral or sea urchins. They allow the light to play across the objects, creating eye catching shadows and highlights. The influence of nature is further evident in the rustic stoneware crockery—a heavily-textured, sandblasted jug and a matching bowl look as if they grew from a tree branch.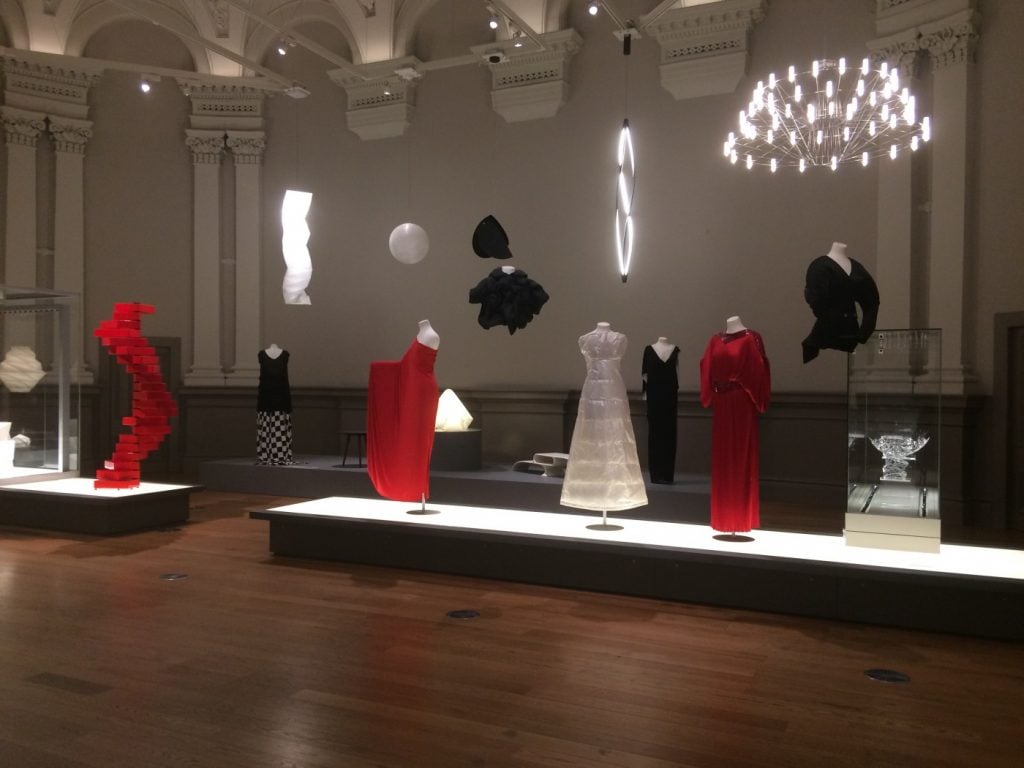 Key ideas and inspirations in Modern Japanese Design are explained via a series of wall hangings in the exhibition. The influences of nature, light, imperfections, materials, forms and deconstruction are visible throughout the different designs, creating a consistency across the exhibition that shows why Japan is still at the forefront of this industry.
The Modern Japanese Design exhibition will be on at the Manchester Art Gallery until the 23rd April 2017.
Filed under: Fashion
Tagged with:
ceramics
,
Comme des Garçons
,
fashion
,
glassware
,
Issey Miyake
,
Japan
,
Japanese designers
,
Manchester Art Gallery
,
Modern Japanese Design
,
recycled materials
,
upcycling
,
Yuki