Northern Ballet's Mixed Programme @ Stanley & Audrey Burton Theatre
I was happy to see the 'Northern' element in Northern Ballet's multifarious compound reaffirmed, whose Mixed Programme burst forth a rainbow of colour, tank-tops, tea-dresses and Stanley Holloway's comic Yorkshire drawl, a suitable backdrop for its opening piece, Jonathan Watkin's A Northern Trilogy. We heard about heavenly Yorkshire puddings, an egalitarian birthday piss-up and a brazen young man's fatal encounter with a lion at Blackpool zoo, all carried with a warm-hearted ebullience uncommon to ballet, and a delicacy uncommon to good ol' fashioned musical comedy.
Next up was Fatal Kiss, Daniel de Andrade's steamy pas de deux, staged somewhere between an intimate, sweaty tango and a brutal bull-fight, with the male more matador than minotaur, swiftly impaled by his partner's kiss goodbye. Crimson and black sharply contrasted in costume (Julie Anderson) and lighting (Alastair West), with the stage shrouded in a blood-red shadow, as the pair battled beneath a fierce spotlight. It was expertly performed by Lucia Solari and Javier Torres.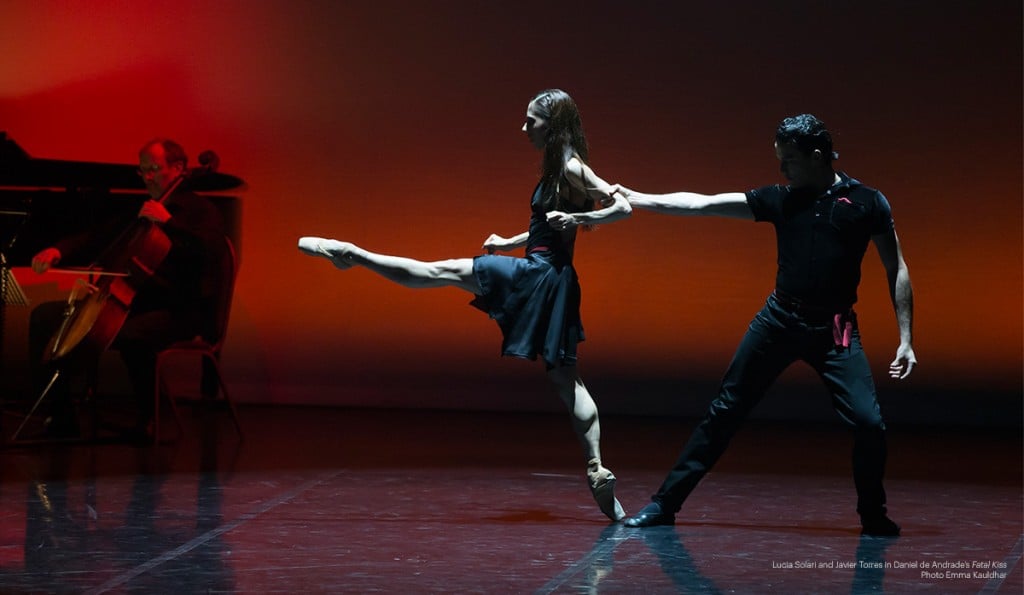 © Emma Kauldhar
Little Monsters quickly followed, another duet, another pair of warring lovers (Dreda Blow and Joseph Taylor), this time stripped of colour and cloth, set to Elvis' Love Me Tender, I Want You, I Need You, I Love You and Are You Lonesome Tonight. Plenty of choreographic expermination in this piece, with interludes in which the dancers stood apart, stretching patterns in unison and writhing convulsively. Then on to Chritopher Hampson's Perpetuum Mobile – distinctly trad, if only by comparison, set to Bach's Violin Concerto in E Major – now 15-years old, and in that time, exceedingly well-polished. We saw Bach's cascading, contrapuntal melodies visualized beautifully, as the performers glided in and out of symmetry, flowering into complex geometric arrangements, then dispersed to swirling atomic components, each transition organic and unannounced.
© Emma Kauldhar
The Architect closed the programme with a darkly hallucinogenic, Alien-vs.-Predator-like interpretation of the Genesis narrative. The dancers emerged from glowing, undulating tubes, encased in exoskeletal fabric. Like the duets, it was another violent battle of the sexes, anchored around Adam & Eve's sinful descent; the dancers splitting into pairs, shifting in and out of interlocking poses and passing apples between their teeth – a carnal parlor game of biblical proportions. The production values were astounding: throbbing strobe lightning rhythmically melding with vast orchestral and electro-acoustic soundscapes, ascending in intensity as the dancers leaped, lunged and scrambled in pursuit of the tainted apple, mechanistically and insect-like. Humanity's mythical original told without humanity – highly innovative, like the rest of this cutting-edge ballet company's unmissable programme.
George Cooper
Northern Ballet's Mixed Programme ran from 6th – 9th in Leeds and 12th -14th May in London. Find out about their forthcoming tours here.