What's On
In pictures: How a coffin exhibition is breaking down the taboo surrounding death
Death is not something most of us want to think, talk or read about. It's certainly not the topic of Monday morning conversations in the office kitchen. Many of us aren't quite sure how to approach it – seriously, logically, spiritually, with fear or humour?
This difficult topic is what DaDaFest (Deaf and Disability Arts Festival) is tackling head on, kicking off with an exhibition of 21 biodegradable, pebble-like coffins created by artist Gina Czarnecki, fittingly located in the Liverpool Cathedral's oratory, which once served as a mortuary chapel. DaDaFest's theme this year is "Passing: what's your legacy?" – and gives us a little help in comprehending the idea of passing away with the help of art.
Artistic director Ruth Gould says choice and autonomy is important in both life and death, and this is reflected in the exhibition. Although each coffin, or "pod", has the same aerodynamic shape, as though made to fly through the atmosphere into space (one is actually shaped like a spaceship), each has been decorated with a different design, provided by individuals chosen from a national call out. Many are brightly coloured and patterned, some ooze with a sense of humour, and others incorporate intricate sculptural elements. It's a surreal display and one that leaves you in an aura of melancholy while at the same time making you lightly smile. Get a glimpse of the exhibition below.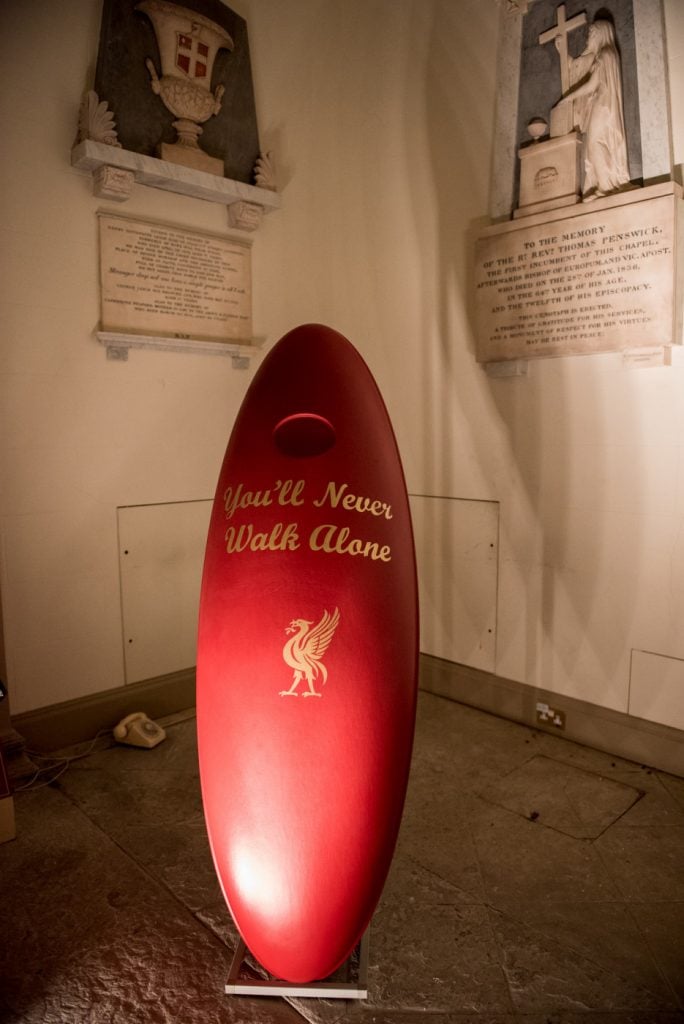 All images courtesy of Mark Loudon. The festival runs until 8 December. For full event listings, click here
Filed under: Art & Photography
Tagged with:
aerodynamic
,
art
,
coffin
,
contemporary
,
DaDaFest
,
death
,
design
,
Disability
,
legacy
,
passing
,
pod