Review: Knight of Cups by Terrence Malick
Terrence Malick is one of the great living filmmakers – his influence can be seen in the work of twenty-first-century auteurs like Alejandro González Iñárritu and Paul Thomas Anderson – but his genius is of a mercurial kind. After making two masterpieces with Badlands (1973) and Days of Heaven (1978), he disappeared for twenty years, returning with the masterful Pacific War epic The Thin Red Line (1998). In the intervening twenty years, Malick's outlook had assumed a more pronounced spiritual dimension, with his animistic beliefs front and centre. The Tree of Life (2011) marked another turning point in Malick's approach; it was the point at which he abandoned the last vestige of classical narrative structure in favour of what could be termed dramatic essay. Reenergised by the possibilities of digital technology, Malick created work in which characters served as avatars for his thematic preoccupations – The Tree of Life is a treatise on universal compassion; while To the Wonder (2012) dwells, with considerably less success, on the vagaries of modern love.
The components which made The Tree of Life soar and To the Wonder flounder are equally in evidence in Knight of Cups; it features the best and worst of Malick's dramatic essay schema. Knight of Cups depicts eight chapters in the life of Rick (Christian Bale), a successful but spiritually depleted screenwriter living in Los Angeles. Following the death of his brother, Rick mulls over the separation from his wife, Nancy (Cate Blanchett); has brief flings with an assortment of women – played by Natalie Portman, Imogen Poots, Teresa Palmer, Freida Pinto and Isabel Lucas – comes into conflict with his erratic brother, Barry (Wes Bentley); and struggles to reconcile with his grief-ravaged father, Joseph (Brian Dennehy).
There is a scene in Knight of Cups which gets to the heart of what Malick is trying to achieve: Rick visits a sprawling Zen garden and is told by its caretaker – played by the writer Peter Matthiessen – that he must learn to embrace the moment. Malick's dramatic essay is a celebration of this outlook; it is a collection of moments signifying something larger by being banded together. There is a sincerity to Malick's approach which makes him a divisive figure; his work flies in the face of cinema's prevailing cynicism, and you either allow yourself to be swept along by this sincerity or it quickly becomes cloying. Malick's work may be ripe for parody, his work can be critiqued as a jumble of ideas in search of a story, but nobody makes films like Terrence Malick; he is undaunted in the pursuit of his vision.
Malick is hugely respected by his peers, which is evident in the all-star casts he has been able to amass for his projects. His approach to constructing a film is unorthodox; he favours a loose, improvisational framework in which actors receive only 'internal' and 'verbal' monologues. He also uses a process called 'torpedoing', in which an actor is thrown into a scene and everyone else must respond to their presence. Malick's methods create a sense of spontaneity and authenticity, but not everyone enjoys it – there is a famous story that Adrien Brody was under the impression he was the lead in The Thin Red Line until he actually saw the film, and actors like George Clooney and Christopher Plummer have vowed never to work with Malick again. Christian Bale clearly revels in this process – he'll be back for Weightless, due out later this year – and he serves as an arresting blank canvas onto which Malick projects the characters that flit in and out of Rick's detached existence.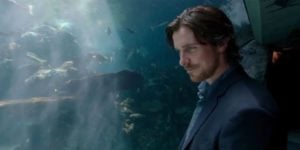 Knight of Cups contains all of Malick's customary stylistic tics: the half-whispered inner monologues; the shimmering photography from Emmanuel Lubezki, for whom this is the fourth collaboration with Malick; the probing, gliding camerawork; the sudden cutaways to nature and wildlife; the fragmentary timeframe which seeks to replicate the motions of memory. Knight of Cups is something of a departure for taking place primarily in an urban milieu; there is no swaying tall grass here, the rural locales used to such resplendent effect in Malick's previous films are replaced by the landmarks of Los Angeles and Las Vegas. Malick brings the same anthropological eye to the studio lots, showbiz parties, babbling suits and gaudy casinos as he did to the native tribes in The New World (2005). Malick's wandering camera is imbued with the same outsider's curiosity; but there is no sense of a thesis here; Malick has no fresh insight into the spiritual void of the modern city.
One could once again complain that the environment holds as much appeal to Malick as do the characters, that Malick seems more interested in being a second unit cameraman than a director. But Malick is an empathic filmmaker who believes in the oneness of everything; hence, Nancy rescuing an insect from drowning in her pool suddenly takes precedence over the slow disintegration of her marriage. The problem is that what was so revelatory in The Tree of Life is solidifying into a formula, that Malick's vitality appears to be waning, that he no longer seems willing to challenge himself. Knight of Cups has its moments of grace, but the overall effect is diminished by a feeling of familiarity, of Malick trading in tropes rather than revelations, of technical comfort being prioritised over the quest for evolution. Knight of Cups veers more towards a jumble of ideas than an authoritative essay.
Follow Daniel Palmer on Twitter at @mrdmpalmer.