Review
When We Are Married @ York Theatre Royal
Northern Broadsides and York Theatre Royal have done an incredible job of producing JB Priestley's classic comedy When We Are Married.
The play tells the story of three couples celebrating their 25th wedding anniversaries all on the same day… only it turns out that they've never been properly married at all! The play is set in 190
8, so naturally the importance of marriage was much more so than it would be today. All three couples are horrified that they've been living together out of wedlock, and terrified that they may be the talk of the town! This all seems a little outdated, but what's simply genius about this production is how the production team and Director Barrie Rutter manage to make the play's messages relevant to today's society. How would you feel if you had chance to 'get out' of a marriage? And what is the true meaning of marriage, and love, anyway?
The cast are superb – the leading woman Geraldine Fitzgerald, Sue Devaney and Kate Anthony are sublime, adding completely unique personalities into their characters to create a great dynamic trio. Kate Anthony is particularly funny as the controlling Clara Soppitt, though this is incredibly complimented by the shy but quietly opinionated Herbert Soppitt (played with just the right subtly to bring out the humour by Steve Huison). Mark Stratton and Adrian Hood play Alderman Joseph-Helliwell and Cllr Albert Parker with fine Yorkshire ebullience. In fact, I particularly like the Yorkshire-ness of the play altogether and each of the cast members play up to this. Luke Adamson as Gerald Forbes gives fantastic contrast as a posh Southerner arriving to shake things up a little.
The set is very simple, but this allows the audience to focus almost entirely on the action. Top Show provided the set, presumably specially made to suit a touring production, and it fits the time period perfectly. It's a great backdrop without needing to steal the limelight from the show as so many sets try to.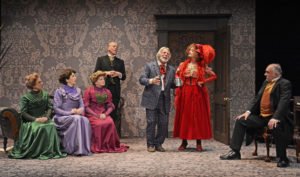 Barrie Rutter adds tremendous humour to the show as often tiddly Henry Ormonroyd. Interestingly, it is also Rutter's character who provides a lot of poignancy so needed in a play full of gags and farcical moments. Rutter directs the play to provide just the right light and shade and the cast bring these ideas to life brilliantly.
It's a great fun night out that will remind you just how amazing it is to be from Yorkshire!
Catch When We Are Married at York Theatre Royal until 24th September. Don't worry! It goes on tour soon after that, right up until 10th December! Check out the Northern Broadsides website for all the info.