Review: Wednesday @ Sheffield's Doc/Fest
City 40 gains unprecedented access into the town of Ozersk, a 'secret atomic city' where almost all the reserves of Russia's nuclear materials are stockpiled. Denizens of Ozersk – formerly known as City 40 – require a special pass to leave, and must pass through a heavily guarded checkpoint. But they also enjoy a higher standard of living than most Russian citizens, having been insulated from the upheavals of Russia's economic 'shock treatment' in the wake of the Soviet Union's collapse. The trade-off for this security is the spectre of contamination that haunts the city from the Mayak plutonium plant. A camera crew was smuggled inside Ozersk with the aid of local residents, giving City 40 an illicit charge as they capture the citizens in unguarded moments. The footage paints a picture of stability enforced through fear; the values of Soviet Russia have been so deeply ingrained that the citizens exist in a state of willing incarceration, 'well-fed animals in a zoo' marvelling at the bars of their gilded cage. City 40 is a companion piece of sorts to Command and Control, documenting the opposite side of the callous logic that drove Cold War realpolitik; there are also thematic echoes of a highlight from last year's Doc/Fest, The Russian Woodpecker (2015). City 40 honours those voices within Ozersk working tirelessly on behalf of its citizens' rights in the face of state intimidation; in particular human rights attorney Nadezhda Kutepova. The film is as much a testament to Kutepova's courage as a historical document.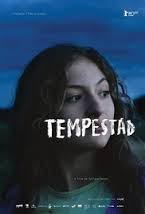 Tempestad is a bleak but poetic meditation on the plight of women in contemporary Mexico. Tatiana Huezo's film tells the story of two women: Miriam and Adela. Miriam has just been released from prison after being convicted for people trafficking – one of the many 'payers', innocent people who pay for the crimes of others, who languish in Mexico's prison system – and is making the cross-country bus journey to be reunited with her son; Adela works as a clown in a travelling circus, struggling to come to terms with the loss of her daughter at the hands of kidnappers. Huezo captures landscapes ravaged by poverty and conflict that have an almost dystopian quality; but also vistas that bear a Wenders-esque desolation, the sadness evoked by expanses of nothing and over-lit roadside stop-offs. Through its personal prism, Tempestad delves into the corruption and degradation that is endemic in Mexico's kleptocratic state; told with warmth, intimacy and candour, these stories bring the dimensions of Mexico's drug war into sharp relief. Tempestad is a visually arresting piece whose compositions and photography – courtesy of DP Ernesto Pardo – are awe-inspiring in their own right, with an exquisite use of muted colour that lends a mythic scope to these beautiful but baleful landscapes. Tempestad has a grandeur and emotional directness that speaks to the pain of loss and displacement at the hands of arbitrary power. Along with The Charro of Toluquilla, it serves to illustrate the amazing work being done by Mexican documentarians.
The festival closed with The Seasons in Quincy: Four Portraits of John Berger, in which the accumulated talents of the Derek Jarman Lab pay homage to art critic John Berger in suitably outré fashion. The film is constructed of four cine-essays – 'Ways of Listening', 'Spring', 'A Song for Politics' and 'Harvest' – which explore various facets of Berger's personal and public persona. Tilda Swinton's contribution to The Seasons in Quincy is more in the nature of a personal journey than a profile, an expression of her esteem for a man with whom she has had a twenty-year friendship. Through informal discussions, interviews, archival footage and eloquent narration, a picture emerges of Berger's approach to life: his spirit of democratic humanism; his commitment to 'material, empirical evidence of life lived'; his perception of himself as a storyteller and 'passer of contraband across a frontier'. Berger's revolutionary spirit is undiminished; the 'A Song for Politics' portion deals with Berger's incomprehension at the present state of things, and the possibility of alternative solutions amidst a climate of generalised pessimism and historic impasse; stating astutely that, 'it's in Hell where solidarity is important'. With the sudden death of Berger's wife, Beverly, during the film's making, The Seasons in Quincy becomes an examination of grief, but equally the necessity of memory as opposed to nostalgia, and the responsibility of 'handing experience on'. The Seasons in Quincy is a powerful, radical gesture in which form and content are in perfect alignment.
Follow Daniel Palmer on Twitter at @mrdmpalmer.