Review
Sleeping Beauty @ City Varieties
Pantomimes are always great fun – from silly jokes to audience participation, this production of Sleeping Beauty has it all. The rhyming speech and clever one-liners are written brilliantly by Peter Rowe and there's plenty of adult jokes that fly over the children's heads.
Justin Brett is loud, brash and hilarious as Dame Taffeta Trott, and steals the stage with banter with the audience. The rest of the cast fall distinctly into two categories: the very good singers and the not-so-great. The not-so-great bring a more am-dram vibe to the production, though the daft physical comedy still holds a lot of the show together.
Bethan-Wyn Davies is lovely as Princess Susie – I'm earmarking her now as an X Factor finalist for the future (I'd take that as a positive thing!) Her love interest, Simon Steadfast, is also played well by Alex Wingfield. He's got an adorable stage presence and when the pair sing You're All I Need To Get By, I got a little teary! Hannah Price is wicked as the "bad fairy" Morgana, with a fab singing voice – she's not evil enough to command the stage, though, and her stage-son Mordred (one of my favourite roles, played by Dan Bottomley) stole the limelight from her a little.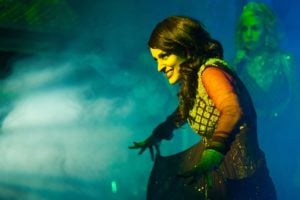 The song choices are a mixed bag, too. Most of them are well-known classics the audience can sing along to, but I wonder if songs such as You're Sixteen are just slightly edging towards being a bit uncomfortable.
I found it most impressive that the cast also doubled as the band. This live music carried the show, and I don't think this multi-talented cast will get enough credit for their range of musical skills!
The kids in the audience absolutely loved the show. If you have a family, I'd definitely recommend this light-hearted show as it has all the ingredients to make a great night out.
Catch Sleeping Beauty at City Varieties until 8th January 2017.