Interview
We talk to the people behind No/Gloss film festival and the Art Hostel Leeds about their upcoming collaboration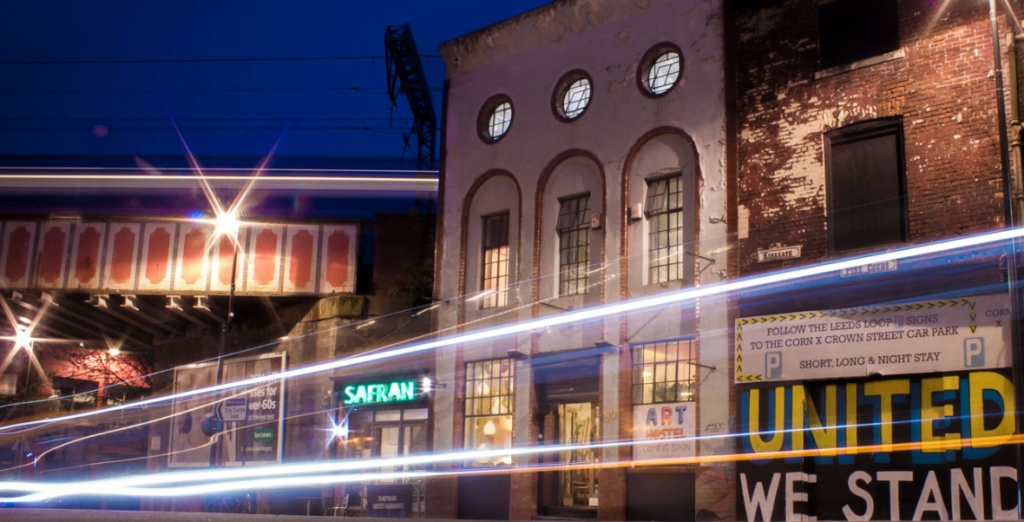 No Gloss Film Festival is Leeds' independent film festival, celebrating underground cinema, do-it-yourself, unconventional film-making, and independent films by local and international film-makers. Conceived in early February 2012, No Gloss Film Festival was born out of a need for a film festival in Leeds that specifically supported and showcased underground films and independent film-making.
Leeds being a city known for its love of film, the missed opportunity in providing a platform championing independent cinema felt somewhat incongruous and became too huge to ignore. No Gloss was founded by Trent, who was later joined by Sophie, with a joint desire to create a DIY film festival that is accessible, different and boundary-pushing. Its name was derived from the desire to showcase art free from the restrictions of corporate expectations and the clichéd, glitzy superficiality we have come to associate the industry with.
No Gloss is a no-frills film festival. It is not held in exclusive, luxurious places, its organisers preferring instead, the refreshing experience of seeing film in unique, unexpected locations that can yield an unusual and exciting cinema affair. Rising in success and with the team growing in numbers, No Gloss is now celebrating its 5th year with a return to Canal Mills on 22– 23 October 2016.
This year No Gloss partners with The Art Hostel Leeds to provide the full festival experience. The Art Hostel Leeds is the first art hostel in the UK and is a truly magical space. The Art Hostel Leeds is a project which was funded by East Streets Arts. East Streets Arts has been developing artists across the North since 1993. The Art Hostel is a unique project providing a base for independent artists world-wide and bringing grass roots arts to the forefront of the Leeds underground scene.
Holly Wyatt spoke to Sophie, director of No Gloss, and Rhian, manager of The Art Hostel Leeds, to find more about their exciting partnership.
What attracted the partnership between No Gloss Film Festival and The Art Hostel Leeds?
Rhian: It does feel like very natural partnership between us. We are two independent community based art-inspired groups. It felt like something very real and organic. We were absolutely thrilled to be approached by the guys at No Gloss. The partnership highlights what we're fundamentally all about: promoting local grass roots arts. No Gloss fits very well with our ethos, and we couldn't be more excited to see what's in store!
Sophie: Exactly what Rhian said! When we first heard about The Art Hostel Leeds we couldn't wait to check it out – an Art Hostel in Leeds?! It's the sort of place we would be excited to stay at and the perfect match for our filmmakers and audience, so it was natural for us to approach them and see how we might be able to work together. We were really excited by the prospect of being able to show those travelling to the fest from out of town a really cool place to stay that's completely in keeping with our ethos, as well as spreading the word about the awesome arts scene in Leeds.
What are you most looking forward to on the actual weekend of the festival?
Rhian: I can't wait for the different creatives who will be coming to stay with us. We are expecting not only the film geeks who are checking out No Gloss to stay with us, but also film makers with films screening. At The Art Hostel Leeds we like to see ourselves as an alternative tourist information centre for Leeds. We absolutely love watching visitors experience the real Leeds underbelly. We can't wait to see what the No Gloss team have got in store for us for the festival, we know they'll have some surprises up their sleeve!
Sophie: We've been doing this for 5 years now and we've learnt a hell of a lot in that time. We're completely DIY and receive no funding, which makes it challenging in one sense, but also gives an incredible sense of freedom, and I think we're at a stage now where we really understand the key things that people love about the No Gloss experience (hence partnering up with people like Art Hostel). We always wanted to make a film fest that's more like our favourite music fests, where you end up checking out stuff you would never otherwise come across, and the atmosphere, crowd, and venue are as much part of the experience as what you're watching.
Do you see a ripple effect from the partnership?
Rhian: Of course we're expecting a successful weekend, but yes after the weekend itself it would great for more people to be aware of the local grass roots scene in Leeds. Free publicity of course is always great for organisations like ourselves, and the perfect way to remind everyone of the work artists are doing in Leeds and bring the commitment of the underground scene to the forefront.
Sophie: Definitely! Collaborations like this help to strengthen the community and make it easier for us all to get the word out about the awesome things that are going on in Leeds. More people will want to be part of it and I can completely imagine that filmmakers who stay there will be chatting over coffee in the communal areas and end up working together on future projects. When we're all coming from a place of such similar values and ethos, that's bound to ripple outwards.
Do you believe independent artists in Leeds are getting the recognition they deserve?
Rhian: It's wonderful to see all the different creatives in Leeds, but as independent artists we do need to be more PR orientated. We are in an excellent cultural city, but we're not shouting about it enough. The mainstream isn't necessarily better but it gets promoted a lot more and therefore gets a lot more exposure than independent artists do. We are an excellent city, but we don't get enough recognition.
Sophie: I'm not sure independent artists anywhere get the recognition they should. Unfortunately it's usually the case that those with the largest marketing budgets are making so much noise that it's hard for indie artists to get a look in, which makes collaborations like this all the more important. We need to all work together in promoting what we're doing and finding creative ways to get the word out. That's exactly what No Gloss was born from – a desire to provide a platform for the amazing independent work that wasn't getting recognition.
Of course it's important to support and develop local art, but both No Gloss and The Art Hostel Leeds have connections with creatives worldwide. Can you tell me a bit more about your international relationships with film makers and artists?
Rhian: Of course we have visitors from all over the country and world. We have had a number of musicians who have been touring staying with us to play at venues like the Brudenell Social Club. We were also lucky enough to receive a gift from a French artist from Lille called Jiam, who painted the mural in our reception as a thank you for his time at Art Hostel. We have had volunteers staying and working with us from Georgia Atlanta, Brazil, Spain, Romania, and Switzerland to name just a few and of course our local artists who do fantastic volunteer work for East Streets Arts dedicate a lot of time.
Sophie: We were amazed the first time we had international film submissions, and wondered how they'd heard of us! Then when international filmmakers started travelling all the way to the fest from Canada, France, Germany, we were thrilled and so humbled. We now have links with filmmakers across the world who we like to keep in touch with and keep sharing and promoting what they're doing. It's fantastic to see the No Gloss family grow and reach so far and I'm sure that international visitors this year will revel in the Art Hostel experience too!
Not only is there the exciting collaboration between No Gloss and The Art Hostel Leeds, but also The Northern Monk Brewery! 
Rhian: Yes, so excited The Northern Monk boys are involved with the weekend! They've always been so supportive of Art Hostel, from donating beers for our launch night and social evening, to disused crates we've decorated for furniture, and are just generally wonderful.
Sophie: Yes, Northern Monk already collaborates with lots of our favourite local artists and organisations so we are dead chuffed to have them involved. Like with Art Hostel, this is another one of those where we just love what they do. Northern Monk make beautiful beers, their Refectory venue at the Old Flax Mill is so very No Gloss and we love hanging out there, so it made perfect sense to work together on bringing our audience there to showcase another excellent bit of what's going on in Leeds! We'll all be heading there for the afterparty once the films finish on Saturday, and Northern Monk are kindly giving an exclusive discount at the bar to all those wearing their No Gloss wristband.
Take a look at the 2016 No Gloss trailer. Full weekend tickets are only £24, for wristband access to all the films, full festival experience, after party and discount both on Northern Monk beer and your stay at The Art Hostel Leeds.