New Release
Tracks Influencing us Right Now – 'Run Logan Run'
At the forefront of Bristol's contribution to the pulsing new UK jazz scene, Run Logan Run bring their raw, visceral energy music to Hyde Park Book Club, Leeds on Sunday 12 March as part of a UK tour promoting new album 'Nature Will Take Care of You'.
An alchemical fusion of surging, polyrhythmic alt-breakbeats and screaming guttural saxophone, since forming in 2016 the duo (Andrew Neil Hayes, saxophones and Matt Brown, drums) have earned a reputation for explosive live performances, full of raw power and visceral energy. 
Ahead of their gig in Leeds, Andrew Neil Hayes, saxophonist and leader of Run Logan Run, shares a selection of tracks from his Spotify 'recent searches' list – tracks that are influencing him right now.
***
Scrambled Tricks – Wu-Lu
This track reflects the angry undercurrent of my subconscious. It's visceral and immediate, a call to arms. It makes me want to smash everything down and rebuild. It was mixed by Dilip Harris, who also mixed our previous record 'For A Brief Moment We Could Smell The Flowers'.
Do You Be – Meredith Monk
Hauntingly beautiful minimalism, just an organ drone and a voice, that stretches to all corners of the human condition. This track makes me cry in a good way.
Left Alone – Dollar Brand and Archie Shepp
Archie Shepp is playing alto here, and he does with his horn, the same thing that Meredith Monk does with her voice. The whole album is really worth a close listen. Dollar Brand's emphatic piano playing perfectly complements the vulnerable and honest feelings that Shepp is expressing.
Listen To Andrew – Andrew D'Angelo, Simen Kiil Halvorsen and Alexander Hoholm 
This is sublime. Andrew's horn is piercing in a soft way, it's both shrill and comforting. It sounds like the voice of reason, reassuring me that everything will be ok.
Only You – Ted Poor ft. Andrew D'Angelo
Ted Poor is an absolute master. This album is so understated and the effect is very powerful, a real example of less is more. I could listen to this track on repeat all day long.
Bellyside – Annie Gardiner
Annie is an old friend and very active on the Bristol scene. She sang on three tracks from our recent album, and has been touring with us, singing on our set and also starting off the show with a performance of her solo songs together with double bassist Jo Kelly. I think this track is about the earth and the elements and the body and a life force, which runs through all of us.
Enter, Pt. 1 – Fire! Orchestra
Our producer Riaan Vosloo put me onto this album, and I was listening to it a lot during the writing and recording of our recent album 'Nature Will Take Care Of You'. There's something immense about the way Mats Gustafsson's horn playing is so raucous and unchained, wild and loud, yet mixed below the vocals. It has levels.
Taurus – Remastered 2008- Rick Holmes, The Nat Adderley Sextet
I first heard the David Axelrod produced record 'Soul Of The Bible' by this group, and then found 'Soul Zodiac'. This track is pure psychedelic wig out. It's like 'Turn on, tune, in, drop out'. If you need to detach from reality and go somewhere else for a while, listen to this music.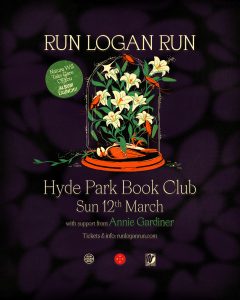 See Run Logan Run live at Hyde Park Book Club, Leeds, on Sunday 12 March. You can book tickets here.
***
Don't forget to also follow them on instagram and listen to their new album 'Nature Will Take Care of You.'
Filed under: Music
Tagged with:
album
,
bristol
,
Bristol music
,
collaboration
,
duo
,
energy
,
gig
,
Hyde Park Book Club
,
influence
,
jazz
,
leeds
,
Leeds music
,
live
,
music
,
music events
,
music industry
,
music scene
,
performance
,
raw
,
saxophone
,
songs
,
tour
,
tracks