Review
Tramlines Festival 2017
2017 was the year that Tramlines took a gamble. It's transition from a free community festival to a paid event has always seemingly been a difficult transformation for those that have enjoyed the festival since it's humble beginnings. So to focus the festival primarily into three paid venues with just the Peace Gardens as a free community stage was a risk. However, from the sea of people in Libertines t shirts and trilbys rushing to the Ponderosa arena  on Friday evening it shows that the festival organisers appear to have made the right call.
The Libertines kicked off the festival with a set brimming full of old favourites and 3am sing alongs. The brotherly chemistry between Doherty and Barât, which is always an uncertainty before the pair set foot on the stage, was apparent and  authentic. Although the stage banter and pleasantries were all but missing the set was interspersed by a series of odd political mumblings, including the particularly memorable "Jeremy Corbyn gave me a boner", but the crowd forgave it and Tramlines 2017 began with a bang.
The breadth of the music genres on offer matched the breath of the weather as the reggae beats of Toots and the Maytals ushered out the sun on Saturday afternoon whilst Cate le Bon offered  a magical indie performance in the torrential rain river flow of the Folk Forest on Saturday evening. Metronomy closed the show to a sodden but still dancing crowd with their upbeat and infectious electro-pop showing that although the rain could dampen our clothes it couldn't dampen our spirits. The highlight of the weekend, in one of the rare moments of stolen sunshine, was the set by Akala who rushed to the Ponderosa stage straight from his Hip Hop and Politics talk to deliver smooth, energetic rhythms with a vibe both political and positive, the soundtrack to a much needed revolution.
Another festival favourite was the The Big Moon whose grunge revival set included a fretted and anarchic cover of Madonna's 'Beautiful Stranger' amongst tracks from their recently Mercury Prize nominated album Love in the 4th Dimension.
Despite the big names, however, there was still an allegiance shown to local artists. At Devonshire Green and particularly the Folk Forest, which gave us local folk-favourites Little Robots and local artists collective Sergeant Pepper's Lonely Hearts Club Band who wowed the crowd with an impressive rendition of 'A Day in the Life' complete with an ensemble of 28 musicians. The fringe scene itself seemed to have exploded to reach further than the limits of the city centre, on a scale that became impossible to navigate. With so many slots available the weekend truly was a place where a phenomenal amount of local artists would get their chance to shine and the opportunities for what each of our Tramlines line up experiences would like became infinite.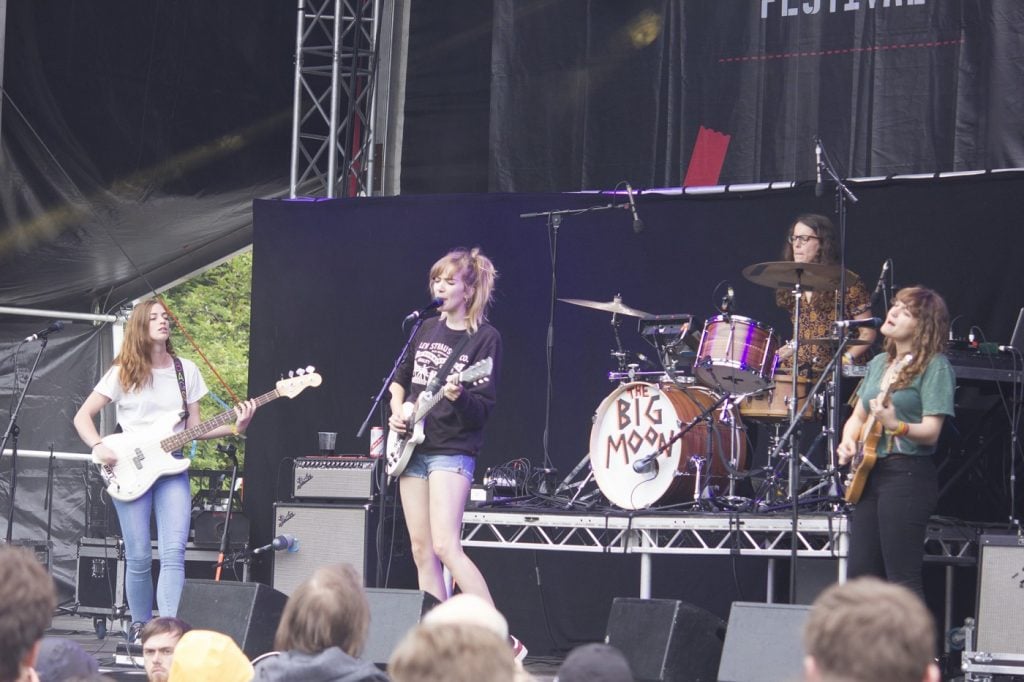 It may no longer be the free festival it once was but it is clear that Tramlines is a festival that's investing its money into acts and facilities to see how far it can grow and reach out to see what it can become. Whilst there will always be those who long for the yesteryear they should always be sated by the incredible fringe scene that local venues and promoters prepare each year around the whirlwind that is Tramlines. Ultimately though, there is clearly a large scene in Sheffield, with our student population from two universities particularly, who support the growth of Tramlines as a big act festival and I, for one, am interested to see what names they pull out of the bag for next year.
Super Early Bird weekend tickets for the Tramlines 10th Birthday are now on sale at www.tramlines.org.uk
Save
Filed under: Music
Tagged with:
Akala
,
Cate le Bon
,
Devonshire Green
,
Folk Forest
,
Little Robots
,
Metronomy
,
Ponderosa
,
Sergent Pepper's Lonely Hearts Club Band
,
The Big Moon
,
The Libertines
,
Toots and the Maytals
,
tramlines
,
Tramlines Festival 2017