Interview
Interview: Blood Brothers with writer Willy Russell
Ahead of hit production Blood Brothers coming to Leeds Grand Theatre, Elaine Peake talks to the show's writer Willy Russell.
Elaine Peake: How did you get the idea of the story?
WR: I was walking along one day; I lifted my right foot and by the time I put my foot down I had the story. Sometimes that happens, but very very very rarely. Thinking back, when I was at my first secondary school when I was eleven, I do remember somehow being involved in some class that was looking at a play. And I have this dim memory of the idea of a baby being taken in one direction and its nurture being decided by which baby was taken from a pram. Now I don't know if I've imagined that, I haven't looked for this story that might have influenced me – it was just the kernel of an idea sown all those years ago.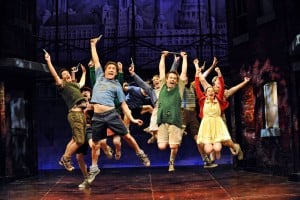 Elaine Peake: When Blood Brothers first went on tour around schools, what kind of feedback did you get from those audiences?
WR: Fantastic! Absolutely fantastic. But they are the most difficult audience on this earth. Kids don't sit there politely having paid £40 for posh seats, putting up with rubbish. They'll just tell you straight. If they're in a school where they're not allowed to walk out if the discipline's fairly tight, they'll still make it known what they think of being made to sit there. I know because I was one of those kids myself once, and I remember how horrendous it is to be patronised or condescended to or made to suffer some crap. I knew it was my job to hook the most disinterested, antipathetic little buggers sitting at the back, the ones like me all those years ago! Most schools are great, but sometimes you'd go to one where the staff don't give a toss, the show was coming up to 70 minutes so they just had that time off. They'd just point you in the direction of the hall and you'd find two hundred truculent, resentful kids. Five actors would have to walk into the middle of that space and, without any lights or scenery and a minimum of props, just go bang! and grab them. And I have to say I never saw it fail to do that.
Elaine Peake: How did Blood Brothers then make the leap to become a full-blown musical?
WR: I always intended it to be a full-scale musical, but I kind of 'borrowed' it to fulfil the brief for Paul Harmison and MYPT. So the day it opened at a place called Fazakerley Comprehensive, I went back to my office and began to write the full-scale musical version of it. I knew that if I allowed this smaller version to become too fixed in my brain, I'd never move on to the full musical version. I told Chris Bond at Liverpool Playhouse that it would be ready in three months' time. But it was twelve months and more before I finished it, I just didn't realise how long it was going to take me to get it how I wanted it.
Elaine Peake: I believe you've considered doing a film version of Blood Brothers?
WR: Well, I've written a screenplay. I did it with Alan Parker a couple of years ago. I absolutely loved doing it – we both did. I'm very proud of the screenplay, but we didn't take anybody's money up front, because we didn't want a screenplay that was devised to suit the whims of a producer. The idea was that we wrote the screenplay of the film of Blood Brothers that we wanted to be made. It's not a small, low budget English picture; it's a big budget musical. So that's not going to happen overnight. In many ways, though, for me the best part of the job of filming it has now been done – and that's the screenplay. It's not the same for Alan Parker, because he's a filmmaker and he wants to make the picture. But all I can say is, watch this space…
TSOTA will also be bringing you interviews with cast members Lyn Paul and Sean Jones ,who play Mrs Johnstone and Mikey. These interviews will be up on the site tomorrow! Blood Brothers is coming to Leeds Grand Theatre 28th March – 2nd April – book your tickets now!