Comment
'Essex Girl' – Maria Ferguson on the stereotype that inspired her new play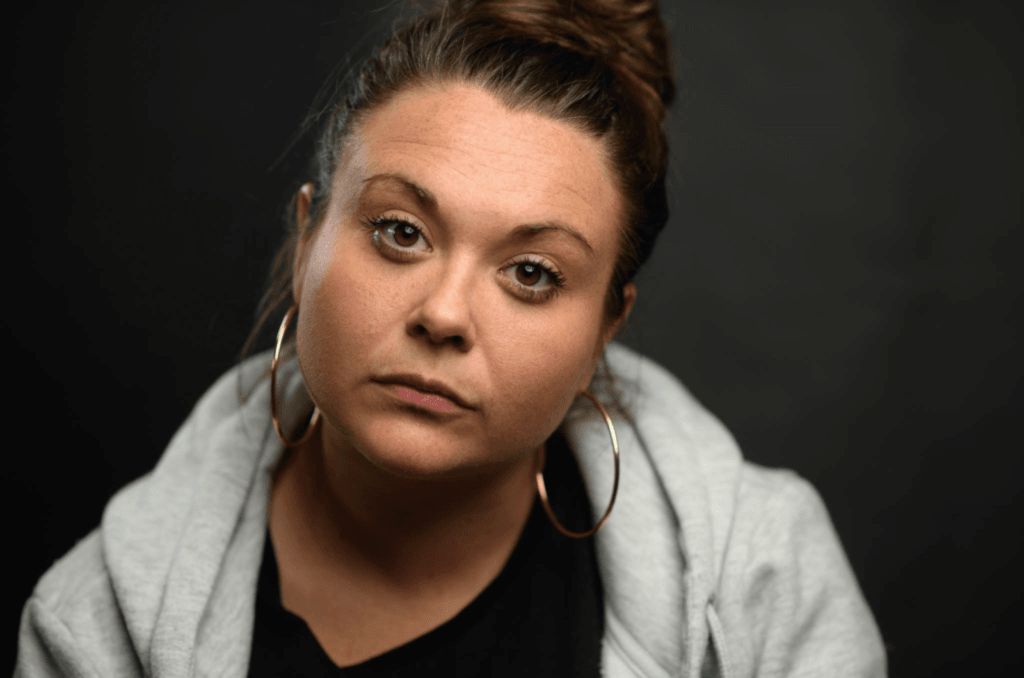 Essex Girl – noun, derogatory, informal
a young working-class woman from the Essex area, typically considered as being unintelligent, materialistic, devoid of taste, and sexually promiscuous.
This is just one of the various definitions I have found of the term, Essex Girl. Others include,
A brash, materialistic young woman of a type supposedly found in Essex or surrounding areas in the south-east of England.
An insulting word for a young woman who dresses and behaves in a way that attracts attention, and shows that she is not intelligent or stylish, thought of as typical of some people from the English county of Essex.
Or my personal favourite,
A name used especially in jokes to refer to a type of young woman who is not intelligent, dresses badly, talks in a loud and ugly way, and is very willing to have sex.
Thanks, Oxford Learner's Dictionary.
My name is Maria Ferguson and I am just about to start a UK tour of my award-winning show, 'Essex Girl'. Kicking off at Seven Arts in Leeds on Thursday 26th September, this female monologue tells the story of Kirsty, a sixteen-year-old girl growing up in noughties Brentwood.
When I first started writing Essex Girl, I had no idea the term was even in the dictionary. All I knew was that I wanted to write something about where I'm from.
I grew up in Romford in the nineties/early noughties and I wanted to write a play from a voice that would be nostalgic and familiar to the people I grew up with. I wanted to talk about our passions and rituals. Our rites of passage. Pie and Mash on West Ham match days, underage visits to Irish pubs where we'd take off our shoes and attempt a jig, house parties where we'd down WKD whilst being spun around on a computer chair and hiding cigarette smoke with overpowering, putrid body spray (thank you, Charlie Red).
I was always aware of, and surrounded by, the Essex Girl stereotype. Fake tan, tight dresses, fake nails, fake hair, fake eyelashes. But I never really fell into that category. It wasn't my thing. So, of course, to this day when asked where I'm from and I reply, Essex, I always get the same response.
You don't look like you're from Essex.
Which made me ask myself, where did this mythological definition come from? Why Essex in particular? What does this belief cause people to expect from us 'Essex Girls'? And how does that ultimately affect our self-worth, how we choose to portray ourselves and what we think we can achieve?
To start with I looked through old photos, diary entries, and school yearbooks. I wrote down the typical teenage behaviour I remembered from school. The fake tan disasters, sunbed burns, shoes we couldn't walk in and fake designer handbags.
The more I recalled from growing up, the more I realised I wanted to question and comment on the Essex stereotype, but for it to come from the genuine experiences of someone who was actually living it, and so I came up with the character of Kirsty, who is not based on me in any way…(alright, maybe a bit)
I wanted to write a genuine account of a young woman growing up in noughties Essex. The expectation she would face due to her class and gender, the opinions projected on her from a young age by her elders and peers, whether she would feel able to question and challenge these opinions and what I have discovered looking back at my 16-year-old, 'Essex girl', self.
I hope that the play captures a snapshot of life for an average teenage girl navigating their place in the world; making mistakes, taking risks and drinking far too much fruit flavoured, alcoholic liquid.
I also hope that it reaches people who wouldn't usually feel comfortable in a theatre. Growing up I loved going to see shows, but always felt a bit out of place. I know people who had never stepped in a theatre because of this very reason, and have only done so to see what I do. I hope it surprises people, sparks debate and represents the place I will always call home. Just seeing the words Essex Girl up in popular and prestigious theatres makes me swell with pride.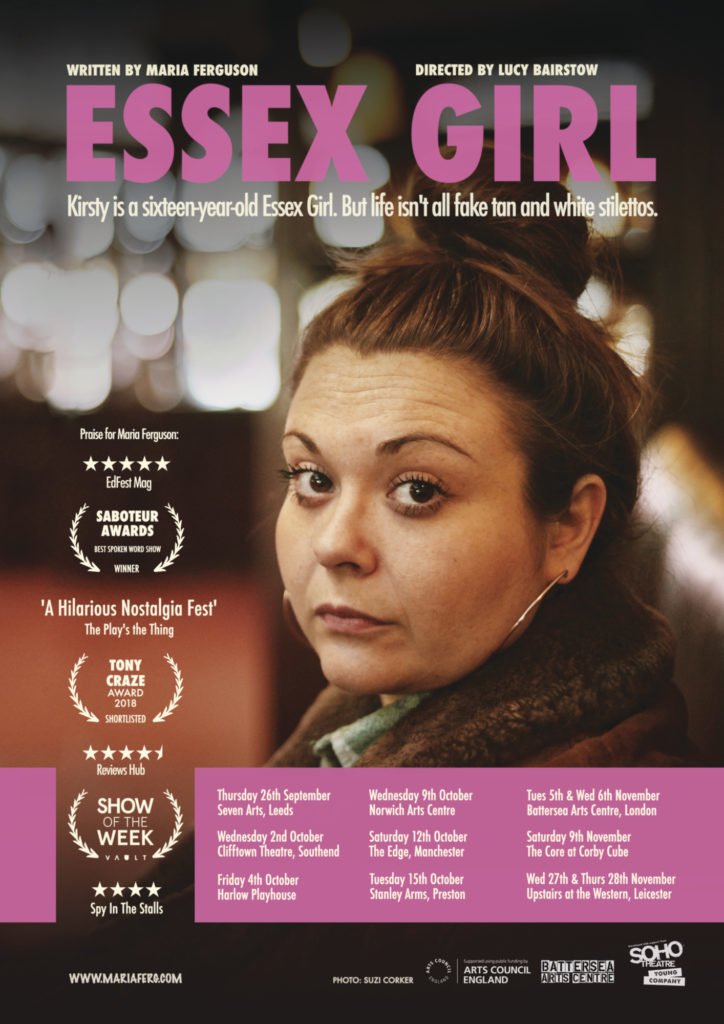 I think the main thing I have taken away from writing and performing this show is that I still don't really have the answers I set out to find in the first place. Despite trying to discover the origin and reasoning behind the term, which dates back to the 1980s and seems to lie in social mobility, and a wave of 'new professionals' and 'self-made men', I have not been successful in understanding why the term is still used and widely accepted today. It seems that TV programmes such as Birds of a Feather and The Only Way is Essex have cemented this belief in our society.
Essex remains the only county in the United Kingdom to have a term of this nature in the dictionary. Yet, whenever I perform this show, whether that be to a sold-out audience at Soho Theatre or in a marquee in a pub garden people always say that it resonates with them. That it doesn't really matter where you're from. That it's not just Essex is it?
And no, babes. I don't think it is.
That's the very reason I've decided to take it round the country. I think it will be the ultimate test for me as a writer and a performer. Whether you're from Leeds or Bristol, Southend or Preston, Leicester or London, I hope this is a story that speaks to everyone. One that we can all relate to and enjoy as well as question and reflect upon.
So, if you like West Ham United, Pie & Mash, The Sound of Music, Irish pubs and Elton John, or you want to relive your teenage years in a WKD fuelled hour of nostalgia then come have a listen. I'd love to have you there.
Tickets and more information for the upcoming performance of 'Essex Girl' in Leeds available here.