Film review: When Marnie Was There – 'hauntingly moving drama'
Studio Ghibli's latest (and possibly last) feature film is a more understated affair, but still manages to deliver on both beauty and pathos.
Directed by Hiromasa Yonebayashi, and based on the 1967 young adult novel by English author Joan G. Robinson, When Marnie Was There is the story of 12 year old Anna, painfully shy and reclusive. She is sent away to live with relatives in the country and finds an unlikely friend in Marnie, a mysterious young girl living in the seemingly abandoned nearby marsh house.
Transposed from its original Norfolk setting to rural Japan, the narrative may seem uncannily familiar to English viewers, even somewhat quaint by modern standards.  But the beautifully drawn animation (this also marks the final film credit for animator Makiko Futaki who died only last month) and emotional honesty of this retelling bring a freshness to this hybrid tale which is nostalgic but also poignantly relevant.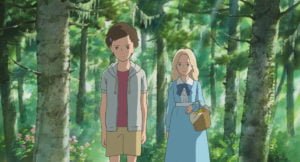 The character of Anna makes for a refreshingly different heroine since Yonebayashi is unafraid to make her awkward and uncertain in a way that typical leading characters rarely are. Quiet, unhappy, clumsy and, as one young viewer perceptively pointed out, "she falls asleep everywhere", Anna brings a realism and a relatability to the story which is particularly touching.
She can't dance, or row a boat, and looks realistically out of place at a possibly enchanted cocktail party in a way that highlights the difference between the worlds that she and Marnie inhabit. Where Marnie supplies the ideal, Anna provides the recognizable reality, and yet their relationship is entirely equal and incredibly moving, even as the reality of Marnie's very existence is called into doubt.
Without giving too much away, to me the ending felt a little neat and conclusive for an otherwise subtle and emotionally nuanced film. Its ambiguity is perhaps the greatest asset of When Marnie Was There, and when the identity of the title character is uncertain it raises valuable questions about the nature of loneliness and friendship. Furthermore, by the end, I found myself uncertain as to exactly who this film is aimed at (perhaps this in itself makes a point about adolescent isolation).
It is arguably a little slow-paced and obscure for some younger children (I could overhear a father behind me in the cinema trying to explain parts of the plot to his young daughter), but by the end it is also a little simplistic to be an animation primarily intended for adults. That being said, for sheer artistic beauty and gentle, empathetic, yet hauntingly moving drama, this is a film that is well worth seeing at any stage in life.
When Marnie Was There was reviewed by Ruth Hobley at  Picturehouse, Bradford (part of the National Media Museum) where it is screening until 30th June 2016. Also showing at Hyde Park Picture House, Leeds, Picturehouse at City Screen York, Showroom Sheffield or see imdb.com for a screening near you.