Interview
Griff Rhys Jones in conversation with Brian Donaldson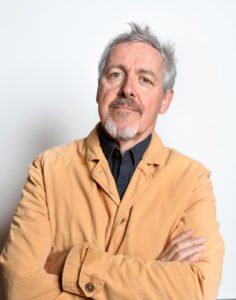 BD: How would you describe Jones And Smith?
GRJ: It's more of a talk than stand-up: I'm not announcing that 'here I am on my own now and soon I'll be doing the O2!' I really love playing arts centres and intimate places and talking about whatever people want me to. It's a theatre show or a chamber piece, it's not a parade.
BD: And what is it essentially about?
GRJ: It's really just to tell some stories about a double act and how that works. As time went gone on, it was always Smith and Jones, it was always Mel and Griff, so there's an element of irony in the idea that this is Jones and Smith. Also, when Mel died at 60, it was a bit of a shock to all of us. I never expected to be 60 myself, not because I thought I'd die before I got there, just that I didn't think it was time to be 60 yet. And so that comes along and then Mel dies and you think 'wow, wait a minute, this is a new chapter; am I ready for this'? The first half is about Mel dying and the second is about being in your 60s. I won't be doing the same show twice because there are many stories to tell and I'd like to try those out.
BD: How would you describe your relationship with Mel?
GRJ: It was a rollercoaster ride with us where you were liable to smash into something at 90mph, but it had an entertaining side where we travelled the world doing stupid things. On tour, we'd share a dressing room together and Mel would be smoking cigars, taking his socks off and generally spreading himself about like a bear in a cave and I'd be sitting in a corner trying to read my Plato. Later on, it was more like something out of the United Nations or like a relationship with a brother: we could communicate through grunts and we could wrestle each other, but we wouldn't necessarily discuss emotional things.
BD: Would you describe it as like a marriage?
GRJ: Yes, though the sex in a marriage would be better. Along the way Mel was astounded as much by me as I was by him. It was a bit like when he died; I was very angry because I couldn't believe that it was necessary for him not to do what I had done such as to start running and giving things up to live longer.
BD: You were clearly different people with different perspectives, but what did you have in common?
GRJ: We were entirely different but the point I'd make is that we had very similar tastes in what we found funny. Like any relationship, if you don't somehow have shared values then it's difficult to do anything together. Mel had the loyalty of a water buffalo and he'd be 100% behind me if I was having a neurotic fit about something. We had a sort-of arrangement where I wrote a significant amount of material and looked after the writers, production and design, made sure taxis were there to pick us up, thought about our agenda and about our futures. Whereas Mel . . . well, he didn't do any of that.
BD: Sounds like being on tour with Mel might have been a little chaotic?
GRJ: It was a different world from where I am in now: it's amazing how many of those stories begin with 'I was in a taxi'. We were thrown together as a couple and we had these bargepoles between us and went our separate ways at the stage door. We'd split up and take turns on having dressing room no 2. Mel didn't care, but it was just me: I couldn't listen to I Built This City on Rock N Roll 20 times but that was Mel's favoured way of relaxing and it would also involve people that Mel had met down the pub joining him in the dressing room before the show.
BD: At what point did you start thinking that you might do a show about you and Mel?
GRJ: For the last few years I've done various audience-with type shows on many different subjects. I did the Slapstick Festival in Bristol where they show silent stuff and old comedy, which was where I came in. We'd made a pilot about 20 years ago and I took that along to show it and told some stories about Mel and about being in a double act. So, that's where all this came from. But really, I just love talking to audiences.
BD: Where do you see your place in the British comedy firmament?
GRJ: Not The Nine O'Clock News had almost been and gone by the time the Comedy Store had come about, so we didn't really associate with alternative comedy. The first series we did was on BBC2 and then it moved to BBC1 where the remit was to be more middle of the road; we were successful there and picked up bigger audiences and as a result we probably went on too long. But you do what you can and not what people expect you to do. But I don't lie awake at night worrying about whether I was alternative or mainstream.
Griff Rhys Jones will be performing his new show Jones and Smith at City Varieties, Leeds on 8th November 2016. For more information and tickets visit the website.