Interview: Brit Floyd musical director Damian Darlington
As the mastermind for more than 20 years behind preserving some of rock's greatest music, Damian Darlington is well aware of the enduring power of music to reach a new audience.
The musical director of Brit Floyd, the touring production he set up in 2011 out of the hugely successful Australian Pink Floyd Show, has taken the ever-popular recreation of Pink Floyd's legendary prog rock sound and light show to fans across the world, including the US and South America.
Yet as Darlington and his band-mates were ending their recent European tour, events in Paris provided a grim reminder of how even the simple joy of live music can be a target for those consumed with hatred and fear. Brit Floyd were playing in Ostend, Belgium as reports emerged of the atrocities during an
Eagles Of Death Metal concert at the Bataclan theatre, a venue he played only last year.
"I know the Bataclan, I was there last year with the Classic Rock Show," he says. "It was certainly a big shock when we got news. We were due to drive into France to get the ferry back and there was talk of closing off the borders but we got back OK in the end."
The Paris attacks came the night after another terror attack killed dozens of people in the Lebanese capital Beirut, another city Darlington knows well and is the band's destination for a gig next month.
"People have this preconception of Beirut as a war-torn place from the 80s but it is a great city with wonderful people. They are very passionate about Pink Floyd's music and there are a lot of young fans. And that's what we see all over the world; there's a lot more young people really getting into this music."
Darlington, 46, shares that passion and the Brit Floyd show aims to recreate the broadest spectrum of the original band's musical career, although it might be fair to say there aren't too many songs from The Final Cut.
"We don't completely steer clear of any era. We dip into every album, although you can't get away from the fact that most fans are looking for stuff from Dark Side Of The Moon onwards. But if it wasn't for Syd Barrett there wouldn't have been a Pink Floyd in the first place so it's important to represent that as well."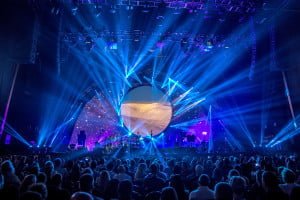 A North-Easterner by birth, Darlington has lived in Cheshire since he was a boy and Liverpool has become a sort of operations centre – the base for Brit Floyd's management company and the place where the band does much of its rehearsing. The show has built up a pool of musicians and backing singers to cope with the demands of almost constant touring and family commitments, yet Darlington has remained an ever-present.
"I've done every single gig for the last 22 years, 17 with Australian Pink Floyd. And we certainly have a good fan base in Liverpool, there's always been a big following for Pink Floyd's music."
Brit Floyd is touring the UK now. See here for more details. 
London Eventim Apollo, Wednesday 25 November. 
Manchester Bridgewater Hall, Friday 27 November.  
Liverpool Echo Arena, Sunday 29 November.