Preview
What I Learned from Johnny Bevan @ Liverpool Unity Theatre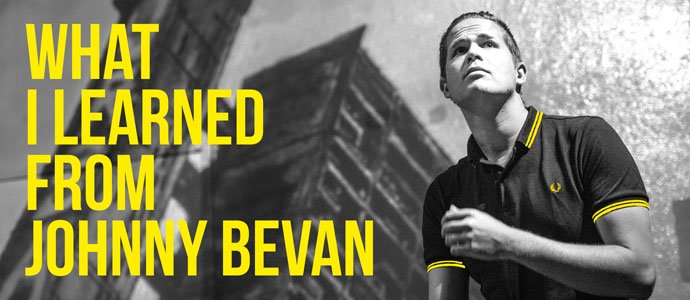 Luke Wright is best known for his blistering, incisive and astute performance poetry and regular slots on BBC Radio, but it was his first theatre show What I Learned from Johnny Bevan that took the Edinburgh Fringe by storm with rave reviews. As a result of this acclaim, the show sold out three weeks at London's Soho Theatre. Wright received a Stage Award for Acting Excellence for his hurricane performance and the show received a Fringe First for the quality of the writing. The London run added a nomination for the 2017 Off West End Awards and Luke was invited to stage the show for politicians at The Houses of Parliament.
What I Learned from Johnny Bevan is a compelling, politically charged story encompassing shattered friendships, class and social ceilings, and especially relevant now that The Labour Party is engaged in another battle for its soul.
At university the whip-smart, mercurial Johnny Bevan saves Nick, smashing his comfortable middle-class bubble and firing him up about politics, music, and literature. Twenty years later, as their youthful dreams disintegrate alongside the social justice they hoped for, can Nick, now a jaded music journalist, save Johnny from himself?
Luke Wright delivers an impassioned, spellbinding performance of his razor sharp script that is infused with humour, humanity, and wit. What I Learned from Johnny Bevan strikes at the heart of British politics, questioning the value systems that encouraged the rise of New Labour and the current brand of Conservatism, with both parties abandoning the working class. This gripping story is a modern fable that reflects today's political polarisation and resonates with the disillusionment felt by many.
Written and performed by Luke in deft visceral, punchy verse, with a score by Ian Catskilkin from the band Art Brut, tautly directed by Soho Theatre Associate Director and nabokov Artistic Director Joe Murphy.
Luke Wright tours the world each year with his unique brand of poetry and can often be seen opening for the legendary John Cooper Clarke. His verse documentaries on Channel 4 have been enjoyed by millions of viewers and his poems can often be heard on BBC Radios 3 & 4, sometimes further afield. He is a regular contributor to Sony Award-winning Saturday Live and has numerous main channel TV appearances under his belt. He curates the spoken word line-ups at The Latitude Festival, Festival Number 6 and The Edinburgh International Book Festival.
Director Joe Murphy won a Fringe First with nabokov for Bunny (Underbelly) and universal acclaim for Blink (Traverse), both of which transferred Off-Broadway. As Artistic Director of nabokov he also directed the hit production of Nick Payne's Incognito at the Bush. Most recently Associate Director on the mega-hit and Broadway transferred Wolf Hall, Joe is now Associate Director at Soho Theatre.
What I Learned from Johnny Bevan comes to the Unity on Wednesday 28th September. You can check out the trailer for it here.