Review: Richard III – 'Bold, slick and stylish'
[All images credited to Anthony Robling] 
'Thou knowest no laws of God nor man'
It's been 15 years since I studied Richard III for my Theatre Studies A-Level. At the same time, Kenneth Branagh was playing the title role under Michael Grandage's direction at The Crucible in Sheffield. With a star-studded cast and boars aplenty, the production was memorable – but it has been 15 years since I have either read or seen the play. Fuelled by fond memories of my studies, I was quick to sign up to see Mark Rosenblatt's new production at the West Yorkshire Playhouse this autumn.
Rosenblatt's bold interpretation of the last of Shakespeare's history plays begins as it ends: in kingly bloodshed. Literally. As muffled music crackles on a vintage radio and Henry VI's blood is hosed from the stage, thus begins a 3 hour spiral into a deeply psychological and disturbing world, where the bonds of family or loyalty of friendship provide no protection from what is likely to be a highly violent death.
Of course, as is sometimes the case with the history plays, I spent most of the first half desperately trying to piece together the plot from fragmented memories of my A-level studies. It took a while to figure out the basics: a king was dead, another was dying and, almost certainly, others were going to die before the night was out – most of them probably called Edward, Henry or Richard.
By the second half, my companion and I just about had it nailed.
We think.
In a nutshell, Richard of Gloucester is a hunchbacked, clubfooted Duke with a thirst for power. With his physical deformities lending him labels such as 'devil', 'infection' or 'toad', what Richard lacks in physical prowess he makes up for with intelligence, orchestrating situations to his advantage with meticulous mind-games and a seeming lack of conscience. Fuelled by jealousy at his elder brother Edward's ascension to the throne, Richard begins to plot and scheme his way to power, dispatching with any faltering allegiances or familial obstacles in spectacularly violent fashion. Though the debate rages on about the accuracies of Shakespeare's depiction of real-life Richard III, it cannot be disputed that this is highly entertaining drama.
There is much to applaud in Rosenblatt's production. Conor Murphy's brilliantly simple set, with its white tiled floor and steel props, creates a highly clinical 'killing space' upon which the carnage plays out. Enormous circular structures of light – trapping characters within or without the 'inner circle' of power – are effectively claustrophobic, whilst Shakespeare's 'shadow' motif is nicely illustrated by clever lighting design. There are interesting touches to costume: the walking stick/sword/dagger is a particularly apt metaphor, whilst the sinister morticians with their plastic aprons, rubber gloves and blacked out goggles could have wandered straight out of a slasher film. Rosenblatt certainly doesn't shy away from the death and destruction of the play, with images of coffins and corpses making regular appearances and an onstage 'beheading' that is as impressive as it is shocking.
The best scenes of the evening are saved for the last 10 minutes. Richard's pre-battle dream sequence playing out like the thank you speech at a party in Hell, whilst the final scene of Shakespeare's play is replaced by a brilliantly understated silent epilogue in a mortuary showing yet another corpse, yet another king waiting to be crowned and effectively creating a circle of events that mirrors the literal circles hanging over the stage.
Unsurprisingly, though, the majority of the praise has to be reserved for Reece Dinsdale's Richard. Something of a cross between Hitler and Charlie Chaplin, Dinsdale's sinisterly comedic interpretation of the character effectively draws the audience into his plans in almost pantomimic fashion. Though he appears to act with no remorse or conscience, he displays an unmistakable charisma that has us wondering if he's such a bad chap after all. In a play that is categorised as neither comedy nor tragedy, Dinsdale brings shades of both to the part – that is, until the second half, when his notable change in posture and attitude is chilling for an audience who, not too long ago, giggled at his blasé jokes and almost Benedict-ian wooing of Queen Anne. I'm reminded of Othello's Iago: Dinsdale's Richard appears to be acting more for the sake of destruction itself than in the pursuit of power. Indeed, once he obtains power it seems to corrupt him rather than the other way round. The second half seeing him spiral into psychological torture ending with a literal straightjacket, unable to hold the weight of the crown as he is caught in a web of his own making.
Though it is more the fault of the play in general than of this production in particular (I certainly remember feeling the same after Grandage's production), the action does tend to fizzle when Richard is not present – and this is not helped by some confusing multi-casting decisions. I can understand how multi-casting Claudius and The Ghost will add an interesting dimension to Hamlet – but in Richard III where is the benefit of casting the same actor as two of Queen's Elizabeth's sons, one of whom is murdered whilst the other is banished? Rather than adding anything of interest, I found these decisions to be distracting and unnecessary.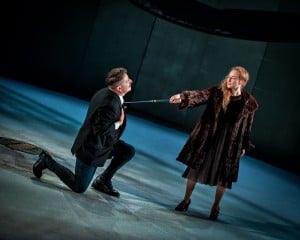 The supporting cast were fair but, on the whole, unconvincing. Some of the longer speeches delivered by supporting characters lacked dramatic tension – at one point, a chair is crossly thrown across the stage to show that the character is, well, cross – but there was one notable exception: Dorothea Myer-Bennett gives a stunning turn as the grieving Queen Elizabeth. Her outpouring of emotion in the second half is genuinely touching, and her ensuing spar with Richard, in which she attempts to save her daughter from marrying the tyrant, provides the most natural and accessible prose of the whole evening.
Of course, this is only the beginning of the run – and this bold, slick and stylish vision more than makes up for some faltering dialogue and dodgy casting decisions. In what is a very wordy play, Rosenblatt's production decisions combine with a psychologically interesting performance from Dinsdale to make for an interesting, often disturbing but always entertaining evening.
All this, and not a boar in sight – which may just be the first time in Richard III's (rather complicated) history.
Nicki Davy
For more information on the show, check out the West Yorkshire Playhouse website.