Review
The Vaudevillians @ Contact Theatre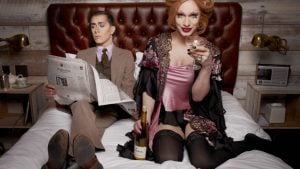 Jinkx Monsoon has always veered toward the unconventional side of drag, with a razor sharp wit and an unrivalled skill in characterisation. Her hilarious portrayal of Grey Gardens' Little Edie on Rupaul's Drag Race led to an explosion of attention on a previously little known cult figure. Here she's developed an equally enigmatic character, as the superbly manic Kitty Witless. Joining her onstage is piano playing husband Dr. Dan, played by Major Scales. Having been frozen since the 1920s, the pair are surprised to wake up in 2017 after being melted by global warming. Unfortunately, they also come to discover that for the past century musicians have been stealing their songs. Who would've known that 'Drop It Like Its Hot' is actually about the invention of the electric iron?
Jinkx commands the stage as our hostess for the night, looking beautiful as ever and deceptively sweet in a pink summer dress. Throughout the performance she's a totally unpredictable loose cannon, flitting from squeaky flapper to roaring hulk in an instant. The plot pretty much consists of whatever notion comes to her mind next, creating a chaotic atmosphere of riotous fun. I found it particularly amusing trying to follow the various states of intoxication she inexplicably moves between throughout, at one moment speaking a thousand words a minute and the next slurring words with her face in the sofa. Although it is not only nonsensical madness; the jokes are clever and the social commentary running through the play is well delivered. One great example is a dialogue between the pair about how nothing has changed since they were first frozen, which rings very true.
The energy is lifted throughout by the pair's renditions of classic pop songs which have been stolen from them over the last century. Songs like Janis Joplin's 'Piece of my Heart' or Britney Spears' 'Toxic' had the audience dancing in their seats and hysterically laughing at the same time. Jinkx's singing and dancing abilities shine through in each performance, as she realistically mimics a broken record or finishes with a perfect death drop. That's not to forget the charismatic and dapper Major Scales, whose piano playing skills bring each song to life. He also keeps the crowd tapping their feet as Jinkx 'powders her nose', with a hip-hop cover of 'Let Me Clear My Throat'.
The highlight of the show was no doubt the audience participation which Jinkx suddenly enforces. As the lights shine brightly on the crowd, Jinkx walks around to survey who might be unlucky enough to be her onstage victim for the next ten minutes. What ensues is a brilliantly cringe-inducing display where Jinkx, role playing as a suffragette, cuttingly mocks some poor innocent man made to represent the patriarchy, finishing with a handstand on his knees.
The production is unpretentious and unashamedly campy fun, leaving each audience member with a beaming smile on their faces. And after a long, cold week of work in the middle of winter, the Vaudevillians was exactly what I needed.