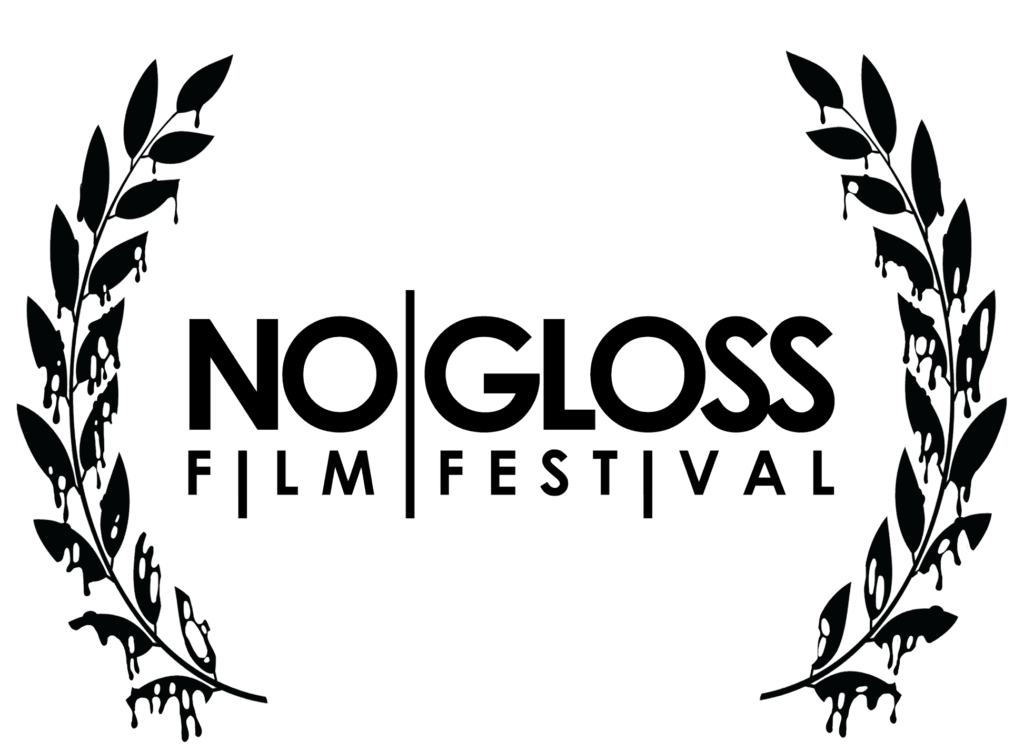 Despite its unprepossessing surroundings—nestled among industrial estates and over the road from a 'sexy superstore'—Canal Mills is a stylishly austere space. Its high ceilings, network of vents, and bare brick walls betray its previous utility, it is artfully lit with crimson bursts and strings of bulbs slung from girders, while its industrial tenor is offset by vivid, large-scale canvases from local artists. Its pleasingly ramshackle ambiance is the perfect backdrop for this celebration of all things DIY, self-financed, and crowd-funded.
Kicking off the festival was Chloé Galibert-Laîné's The Burrow, a tense psychological thriller which addresses the implications and anxieties surrounding user-generated surveillance. The Burrow draws on Polanski in its study of alienation and spiralling paranoia, with handheld horror tropes and the incremental dread of K-Horror thrown in for good measure. The Burrow charts the pathology of security and the performative aspects of online culture, channelling Kafka in its depiction of a woman losing something of herself by submitting to arbitrary and seemingly implacable power. All in all, a very accomplished piece.
Marco Reekers' No Future has a gleeful griminess to it, emulating the fuzzy-edged aesthetic of VHS in a similar way to Pablo Larraín's No (2012). Reekers recreates the squalor of an Amsterdam that has long since passed in his fable of a suburban girl who leaves home to grapple with the iniquities of the '80s anarcho-punk squat scene. What distinguishes No Future from the many similar evocations of the era is the fact that it retains some of the nihilistic spirit of the time, and has a rather touching female love story at its centre. Reekers brings us a riotous romp that offers more than cheap nostalgia.
The festival's standout feature was Alexander Carson's O, Brazen Age, which seeks to subvert the expectations of the 'festival film' by infusing it with some much needed erudition and playfulness. With its lambent photography and poetic register, O Brazen Age has the kind of arch hyper-literacy and cultural specificity one would find in the writings of David Foster Wallace. The film uses the tenor of Renaissance drama to lend its listless characters a tragic dimension. Carson depicts a world of people who use photography as a means of reifying their existence, who face the world in character, for whom objects carry a cosmic charge. O, Brazen Age is a rich and enigmatic work imbued with the quality of a dream.
Mockumentary was a popular thread, with three examples screening at the festival. Golden Tuna – Montreal Session follows a Montreal 'multidisciplinary artist', while The Art Bastard Show takes aim at the burgeoning Bristol art scene. Golden Tuna – Montreal Session manages to pack a high quotient of laughs into its nine-minute running time, introducing a character that begs to be developed. The Art Bastard Show has the feel of an extended Chris Morris sketch, right down to the supercilious voice-over. It has a keen eye for the foibles of its subjects and the pretensions of the scene, but the performances become a little more Catherine Tate than Christopher Guest. The problem for both films is that the art world feels like it has been thoroughly mined, and neither film can live up to the high standard set elsewhere, be it Nathan Barley or Exit Through the Gift Shop (2010).
Busking Turf Wars tells the story of Steven Lockmoore (Christy Coysh), a garrulous busker and 'local character' on the streets of Leeds whose life is thrown into turmoil when his pitch is threatened by a rival performer. The first half of Peter Trifunovic's film is an amusing character profile with a distinctly Peter Kay/Mark Wootton feel, placing Coysh's creation among the public and capturing the bemusement inspired by compositions like 'Mannequin Woman'. Coysh has an ease and assurance that the other performers lack, but the film loses steam with a ham-fisted romantic subplot and predictable redemptive arc.
Ash Morris's Margie's Garden is a twisted little piece of a uniquely British flavour, falling somewhere between Ken Loach and Down Terrace (2009). Featuring an engaging central performance from Abigail Hamilton—equal parts Margaret Rutherford and Tony Montana—the film has a woozy ambiance thoroughly in keeping with its subject matter. On a similarly stoner tip is Theresa Varga's Bossman, which recounts an imaginative young woman's attempts to foil a sinister chicken shop proprietor's nefarious plot. Bossman is imbued with the gaudy hues and crash zooms of '80s video schlock, with an absurdist streak and great comic interplay between its two leads—Alice Felgate and Nathan Bryon.
Nick Padley's horror short Gene has the Giallo dial turned all the way up to ten, which is all well and good, but it does feel overly in thrall to its influences. There is an abundance of drone shots and a bone-shaking sub-Carpenter score which lends it a histrionic quality. Prano Bailey-Bond's Nasty has a similarly unnerving tone, but is grounded in something more psychologically nuanced, using the video nasty hysteria of the '80s as a portal into the dark undercurrents of the family unit. Informed as much by E.T. the Extra-Terrestrial (1982) as The Evil Dead (1981), Nasty builds to a terrifically twisted conclusion.
Jeffrey Blake Palmer's Split Costs is a quietly insightful piece about two women driven together by necessity, sharing a car which functions as a kind of confessional. The spectre of poverty, loss and violence hangs over the film as the reasons behind their journeys are slowly revealed. Palmer has an unfussy directorial style which places an emphasis on the performances of Mela Hudson and Tori Hall, both of whom deal ably with the demands of the often expository dialogue. Though it grows a little overwrought in places, Split Costs suggests that Palmer may have an intriguing feature in his future.
Jean-Paul Cardinaux and Xavier Ruiz's Sweet Girls is a conceptually interesting but misconceived work which tells the story of two teenage girls who declare war on the elderly population of their housing development. The film's macabre potential is continually undercut by its directorial team's stylistic excesses, beset by hyperactive camerawork and the dreaded teal and orange colour grading which has leant a crippling uniformity to mainstream cinema. Lurching between bawdy comedy and stone-faced social commentary, the end result is something akin to an Andrea Arnold after a Sunny Delight binge.
David Aguilar's Mara Mara was a highlight of day two. Mara Mara tells with poetic economy the story of two women surviving in the forbidding beauty of a snowbound landscape. Aguliar creates a distinctive mood and texture with his inventive use of sound, harnessing the stunning winter light. The film's meditative pace invests the minuscule with a sense of grandeur, approaching the slow cinema beats of Béla Tarr and Lisandro Alonso, forcing the eye to contemplate composition and linger on the periphery of the frame, communicating the dynamic between the women with a minimum of dialogue. In Aguilar's hands, light attains a state of abstraction, bleeding through cracks in the roof and falling over contours of flesh. At turns intimate and immense, Mara Mara is a thing of beauty.
Ollie Wolf's At Dawn is an atmospheric piece which succeeds in bringing a fresh perspective to a familiar story. The film tells the real-life story of WWII British Royal Engineer Michael Nash who finds himself fleeing enemy gunfire in rural France. Wolf grapples with the weight of history by viewing it through the prism of a single man, capturing something of the surrounding barbarity in its excellent sound design, which intermingles with the ominous ambient score to foster a sense of a slowly encroaching, overwhelming force.
Equally evocative is Tomisin Adepeju's Marianne, which draws on Adepeju's experiences in the African church to tell the story of a Nigerian man (Tobi Bakare) who travels to a remote Pentecostal church with his ailing wife (Vivienne Bell) in search of a miraculous cure. Adepeju's decision to shoot Marianne on Super 16mm lends it the warmth that only celluloid is able to engender while retaining a gritty edge. Adepeju's energetic, intuitive framing comes to the fore during the scene in which Marianne is 'prayed on'. Marianne is an elliptical, elegiac reflection on the power of faith and the depths of devotion.
Closing the festival was Catalina Gonzalez's Ekaj, a stark and often harrowing work which follows a runaway teen (Jake Mestre) who arrives in New York and is befriended by a hustler (Badd Idea) who tries to school him on the brutal logic of the street. Gonzalez's aesthetic falls between Larry Clark and Gus Van Sant, sans the visual finesse of either. The harshness of the film's visual style mirrors the harshness of the life it depicts. Ekaj is as guerrilla as it gets: dialogue often struggles to rise above the hum of the street; Gonzalez's camera pulls in close on its subjects, reducing the surrounding city to noise beyond the frame; with improvised dialogue from its non-actors, who less perform than exist for the camera. Ekaj presents a portrait of those who have become marginal as an act of self-definition, scarred inside and out. It is visceral filmmaking which gets to an essential truth, serving as a perfect summation for the festival: often challenging, sometimes frustrating, but always unique.
Follow Dan Palmer on twitter at @MrDMPalmer. Find out more about No/Gloss Film Festival here. 
Filed under: Film, TV & Tech
Tagged with:
Alexander Carson
,
Alice Felgate
,
Andrea Arnold
,
At Dawn
,
Béla Tarr
,
Bossman
,
Brazen Age
,
Busking Turf Wars
,
canal mills
,
Catalina Gonzalez
,
Chloé Galibert-Laîné
,
Christy Coysh
,
David Aguilar
,
David Foster Wallace
,
Down Terrace
,
Ekaj
,
Gene
,
Golden Tuna - Montreal Session
,
Jean-Paul Cardinaux
,
Jeffrey Blake Palmer
,
leeds
,
Lisandro Alonso
,
Mara Mara
,
marco reeker
,
Margie's Garden
,
Marianne
,
Mela Hudson
,
Michael Nash
,
Nasty
,
Nathan Bryon
,
Nick Padley
,
no
,
no future
,
No/Gloss
,
O
,
Ollie Wolf
,
Pablo Larrain
,
Peter Trifunovic
,
Prano Bailey-Bond
,
Split Costs
,
Steven Lockmoore
,
Sweet Girls
,
The Art Bastard Show
,
The Burrow
,
Theresa Varga
,
Tobi Bakare
,
Tomisin Adepeju
,
Tori Hall
,
Vivienne Bell
,
Xavier Ruiz