Comment
"Patience is a virtue" – on the roadmap to clubbing
Spring has sprung and summer is on the horizon. You're just around the corner. So close that I can already taste your timeless hours through the twilight zone. But how will I know what you look like now?
You are the one who always allows me to escape. To be free – my full mind, body and soul. I really cannot wait to have you back. Most of us are counting down the days.  Alarms are set on people's phones, we are ready for the reunion. 
Ready to dance, ready to sweat and stomp the night away. To endure those vibrations once more and get lost within your vivacity. Imagine.. the summer of liberation in the 21st year of the 21st century. I hope that's what you will feel like when we meet.
Despite the absence of your physical presence in our lives, we've learnt more of you that we need to fix. Healing has transpired in the virtual world, but we can only take this further once we have you back in our reality. And, with any luck, you aren't going to be the same again.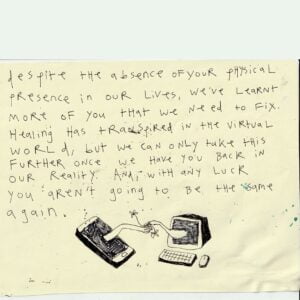 We took it all for granted. Your warm indescribable buzz felt inside attics, basements and warehouses. Whatever the weather. You were the force that pulled us together, tightly knit and somewhat more levelheaded. 
My friend once said to me at a club, "now you either go outside for a minute or come and have it out in here with me!" Believe me, I'm ready to have it out on your dance floor. Inside your sweat-fuelled abyss lit up by magicians of the night. Hearing the sonics that have been crafted to soundtrack what we have been missing. 
Take me to that dimension! The one between joy and euphoria that's full of love. Where all my friends get to be together, where I meet new souls, where freedom is a given. The form when I get to move my entire body and move without thought. Refresh my mind and just be.
That first time back is going to exorcise us all. To think of the weight we have been carrying over the last year. I'm going to dance all night long. I'm going to hug everyone in my sight. Share and savour every moment! Whenever you're ready, I will be too. 
Patience is a virtue.
Filed under: Music
Tagged with:
clubbing
,
clubs
,
dance music
,
dancing
,
DJ
,
djing
,
electronic music
,
events
,
festival
,
lockdown
,
nightlife
,
northern nightlife
,
party culture
,
rave
,
roadmap
,
summer
,
venue