The TSOTA Leeds Gig Digest: July 2015
Leeds has been, is, and always will be a tapestry of brilliant things. The raw talent harboured within the city, whether from birth or as temporarily as an evening, is constant, tangible and even visceral; Leeds throbs. Every corner, crack and shadowed nook of the cultural map has been occupied by some manifestation of this fervour and feeling, from sold-out arena tours to intimate acoustic gigs in suburban living rooms through charity benefits, sit-down performances and raucous basement DIY-fests. We at TSOTA cannot proclaim to document each and every one of these pregnant cultural corner spaces, nor can we claim the importance of one gig over another (subjective and individually necessary as they are), but what we can do is write about the gigs we've noticed, the nights that rest on our radar and have us as music-lovers itching to run head-first into the coming month.
This, then, is the beginning of a regular, monthly section on TSOTA, wherein we pick out and detail a choice array of the things you can expect to see around Leeds over the next four weeks. Welcome to the TSOTA Leeds Gig Digest!
King Gizzard and the Lizard Wizard, 7th July @ Belgrave Music Hall
[Courtesy of King Gizzard and the Lizard Wizard]
An Australian psychedelic septet entering their 5th year with a 5th album, King Gizzard are not a band for keeping still. Fresh from the Park Stage at Glastonbury last weekend and part-way into an impressive 3-week, 19-date European tour, they will be gracing stages in Holland, Germany, Denmark and France before that of the Belgrave on the 7th of the month. Expect heft, depth and seven tongues firmly in cheek as they play to entertain and exhilarate.
Modest Mouse + Hippo Campus + Elle King, 8th July @ 02 Academy
[Courtesy of Ravenhouse Ltd]
To bring latest LP Strangers To Ourselves' first live cries to life, eclectic indie-rockers Modest Mouse are taking themselves across the western world between now and late October, visiting Leeds' ample 02 Academy in the process. Strangers To Ourselves is their first studio LP in 8 years, though they've been no stranger to the stage in that time. Expect immaculately ordered chaos in clatter-form as guttural anthems new and old interweave under the 02's thick Academy air.
Zeitgeist + Shiver + Dead Hedge Trio, 9th July @ Brudenell Social Club
[Courtesy of Zeitgeist]
This Leeds-based jazz trio describe their particular brand of music as 'Terrorjazz', and rightly so; their eponymous debut album murks and fizzes with a rawness not usually expected of their genre, and their live shows evoke Meshuggah more than Miles. They headline the Brudenell on the 9th – expect eccentric time signatures, heavy jams and a very sore neck the next day.
Matt Owens + Reese Jacob + Arcarode + Oliver Pinder, 15th July @ Oporto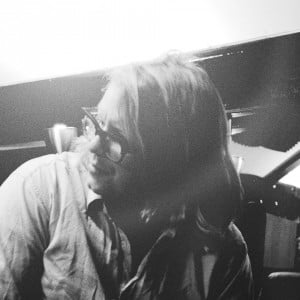 [Courtesy of Matt Owens]
The singer-songwriter and co-founder of Noah and the Whale sees in his debut album Songs For An Empty Room, and begins the end of his UK tour, at the Oporto bar on Call Lane. His acoustic music is a tender departure from the oftentimes-springy sound of Noah, instead taking a warm, laidback and mellow approach. Expect candles and tasteful applause.
Forever Cult + Walleater + Colour of Spring + Trash, 17th July @ Brudenell Social Club
[Courtesy of Clue Records]
Leeds-based frenetic alt-trio Forever Cult come home during their July tour of the UK, ready to fill the Brudenell's smoky space with heavy tunes and charged delivery. They tour off the back of their latest one-off release 'Antonio Banderas', a track pregnant with scatology and instrumental might. Expect grungey spectacle and lots of sweat.

Cops and Robbers Summer Fest/Fundraiser, 24/25th July @ Wharf Chambers
[Courtesy of cops and robbers]
Leeds' much-beloved DIY gig zinemakers are hosting something of their own this July, and it's going to be magnificent. Cops and Robbers will take over Wharf Chambers for 2 days of stunning underground sounds from a litany of the scene's standout artists, including The Wharves, No Form and Commiserations, in an effort to raise funds for the invaluable zine. Expect a smorgasbord of noises, feelings, cinema and snacks.

The Pains of Being Pure at Heart, 26th July @ Brudenell Social Club
[Courtesy of The Pains of Being Pure at Heart]
The indie-pop New York 5-piece visit the Brudenell as part of their UK Summer tour, coming a year after their latest LP Days of Abandon. The album sees a settling-in, Pains' puppy-dog romance-pop sensibilities aging well in a cask of hard knocks and heartbreak. Expect a commixture of gay abandon and mellowed measure, brought to sparkplug-light by an excited quintet.
So ends our digest for July, and so begins in earnest our humble regular feature! Don't let this digest completely dictate your month's gigging though; there is a whole city's worth of crannies we haven't covered in this list, and so much to discover. Instead, see our listing as a jumping-off point, a base on which to found a month's musical spelunking. Don't forget a torch.
James Grimshaw
Filed under: Music
Tagged with:
15th
,
17th
,
2015
,
24th
,
25th
,
26th
,
7th
,
8th
,
9th
,
and
,
arcarode
,
belgrave
,
Brudenell
,
brudenell social club
,
colour of spring
,
concert
,
cops and robbers
,
dead hedge trio
,
digest
,
elle king
,
fest
,
festival
,
Forever Cult
,
gig
,
hippo campus
,
july
,
King Gizzard
,
leeds
,
lizard
,
matt owens
,
modest mouse
,
music hall
,
oliver pinder
,
Oporto
,
reese jacob
,
shiver
,
the
,
the pains of being pure at heart
,
trash
,
walleater
,
Wharf Chambers
,
wharves
,
wizard
,
zeitgeist