The year gone and the year ahead
At the end of a busy 2015 here at TSOTA, we look back on some of the highlights from the year gone. 

In January we picked out Yorkshire's most anticipated events for 2015, then went along and reviewed The Curious Incident of the Dog in the Night-time, Uncle Vanya, and Northern Ballet's Romeo and Juliet. We spoke to Adam Smith, co-director of the Real Junk Food Project, which this year has gone from strength to strength, and to Leeds-based playwright Adam Hughes, whose Marching on Together ran to much acclaim at theatres in London and West Yorkshire. And we took at a look at the smallest theatre in the world before it embarked on a tour working with orphanages in India.
February saw the first of many reviews of the ever-active Opera North, whose Marriage of Figaro ran at the Leeds Grand Theatre. We took a tour of Leeds Town Hall, and you can read all about what the Hall has coming up in 2016 here. Then we spoke to the director Ilkley Film Festival about the event's second year and to the curator of World Cultures at Leeds City Museum.
In March author Claire Fisher celebrated International Women's Day with a list of five women writers who inspired her, and Nicki Davy asked whether Leeds City Council were right to remove the work of pavement poet Daniel Rowland from the city's streets. Finally, we spoke to Leeds band Pulled Apart By Horses about the importance of local music scenes.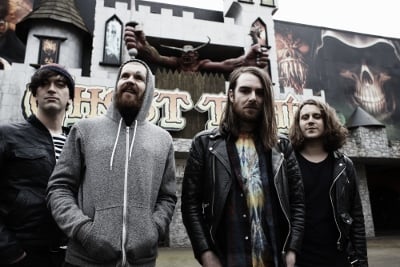 April opened with a conversation with London-based DJ Yoda prior to his 13-date UK tour, and closed with another with the founder of the York Art Journal about her show Breathing into Bloom at York's The White Room. In between we reviewed an exhibition of the work of 18th-century English painter George Morland at The Stanley & Audrey Burton gallery and a sculpture series by American Carol Bove and Venetian Carlo Scarpa at The Henry Moore Institute.
In May the young people of Rotherham took to the streets for a festival of arts and street performance and Live at Leeds returned for the ninth year running. We spoke with writer of The Vagina Monologues Eve Ensler about her work, activism, and her best theatre experience, and to her fellow American Mubashir Mohi-ud-Din, lead singer of indie band Zerobridge.
In June we spoke to Patrick Redmond, author of psychological thrillers, about the move from a law firm to life as a full-time writer, and to Fiona Gell, founder of Leeds's Big Bookend festival. We previewed five Northern music festivals you should not have missed this summer, and in July looked at four Northern bands that had been killing it on this year's festival circuit.
Also in July we interviewed Settle Stories founder Rita Brand, who set up the organisation in 2010 to preserve the oral histories of the Yorkshire Dales in a digital library. Theatre company Red Ladder told us about losing their Arts Council funding and their ongoing fundraising efforts (you can still donate here) and Slovakian graphic artist Jakub Goda told us about the process of designing a TfL advert and about the most exciting recent developments in CGI. And of course we celebrated Yorkshire Day with the Hyde Park Picture House.
In August we began the process of expanding to cities around the UK, and were happy to mark the relaunch by exclusively publishing Jeremy Corbyn's statement on the arts during the Labour leadership contest. In our first pieces from London, Helena Gumley-Mason saw some unusual opera at the Grimeborn Festival and Orban Wallace of Gallivant Film told us about the experience of interviewing refugees in Calais. Back in Yorkshire, the shop windows of Wakefield were brightened up by the work emerging artists aged 16-25.
In September the Comic and Zine fair came to Bristol, and Alex Duffy gave his recommendations for the sights to see in Liverpool's city centre. Virginia Lowes visited the most recent exhibition from Sheffield artist Jo Peel, while Lucy Cheseldine delved into Ireland's storytelling tradition at the Dublin Fringe Festival. And we went along to cellist Yo-yo Ma's marathon performance of all of Bach's six suites for unaccompanied cello at the BBC Proms.
October saw the start of Artbeat, an interview series about the people at the heart of London's arts and culture and what makes them tick, and we spoke to Crunch Lit author and Leeds Beckett lecturer Katy Shaw about the response of fiction writing to the financial crash. In Birmingham, we attended the last live show at mainstay venue The Bull's Head, and Laura Harris asked who was really benefiting from the regeneration of central Birmingham's Digbeth area. And we went along to Liverpool label Fly On The Wall's talent showcase at the Constellations bar.
In November we marked the opening the Hyde Park Book Club, a new cafe and performance space in Leeds, with a preview of storytelling experience The Book of Darkness and Light. We published original poetry from Sheffield-based poet Ms Anamoli Meraki, Fraser Smith looked at the history of hip-hop in Birmingham, and in Bradford Rich Jevons saw "quite simply the finest use of a child actor" he'd come across in play Under the Bed.
December saw interviews with London-based artist Rachel Maggart and Leeds-based orchestral folk sextet Hunting Bears. We reviewed Part Deux, the third album from Birmingham quartet Sunshine Frisbee Laserbeam, and Abstract Landscapes, an exhibition of the work of a variety of artists at Manchester's Whitworth Gallery. And we closed the year with our first guest feature from outside the UK, when Lauranne Roux and Peyton Kelvin saw the work of French photographer Stéphane Couturier at Paris's La Maison Européenne de la Photographie.
And we've got lots in store for 2016. We've set out to create not so much a national site as a collation of lots of smaller ones, each based in cities around the UK, and each run by teams with their fingers on the pulse of their city's arts and culture. We want to build a resource you can rely on to tell you about the best and most interesting events and movements in your area. On top of that we'll be looking to organise debates, performances, and competitions, so stay tuned! And Happy New Year!