Review: The Garden Party @ The Tetley
[All images courtesy of Ella Healing]
While festival goers flocked to Bramham Park in their hoards for the bank holiday weekend, the grounds of the old Tetley brewery were completely transformed for a very different musical event. Now in its tenth year, the Garden Party promised a vibrant weekend to rival any of the major Northern festivals, and it did not disappoint.
For those worried about missing out on the typical festival vibe, then the feel of a contained campsite was lovingly recreated in the grounds of the Tetley. The only difference being that you knew a bed and shower were waiting for you afterwards, as opposed to a muddy tent at risk of sliding down a hill. Whether you wanted to spend the whole weekend dancing, or simply sit with a cider and enjoy the atmosphere, you could take Garden Party at your own pace. Wooden trees and hay bales made the whole site feel like an elaborate live art installation, but luckily this resulted in something charming rather than gaudy.
For the artistically inclined, the site was dotted with free-standing boards where guests were allowed to let their creative energy flow. While it was not quite the arts and crafts extravaganza promised, it was still fun to return to the board every few hours to see what new mural had appeared.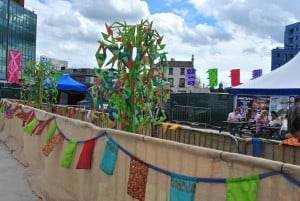 Leeds Indie Food organised a diverse line up of street food merchants including Northern Bloc ice cream, Rola Wala Indian street food and Pizza Fella. While most of these were very overpriced, the best value for money came in the form of Banh Mi Booth, a Vietnamese food truck serving the best fried pork dumplings in the North. The most disappointing vendor came in the form of Chicken Chicken Bang Bang: a tiny burger set us back £6 each and left us feeling a little undernourished. Sonic Emporium was also on site to offer a bizarre menagerie of gifts. These ranged from the standard artisan creations (handmade postcards and jewellery) to the more avant garde (spoons and forks with painted eyes).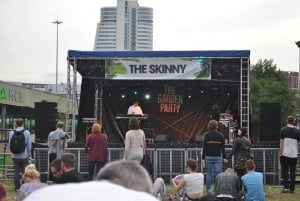 The acts performing on the Skinny Stage by far outflanked headliners Roisin Murphy and Little Dragon, with Leeds based DJ and producer Bambooman standing out as one of the unexpected stars of the Saturday set. Not even a smattering of rain could stop his small but dedicated gaggle of fans from cheering on their hero, with some proudly boasting about how they'd met and hung out with the man himself. An endearing cross between Michael Cera and Sheldon Cooper in appearance, Bambooman's free spirited and somewhat child-like dancing during the set was a reminder that he was just happy to be there. Seamlessly blending hip-hop and dance with distinct Asian influences, the local DJ has a promising future in the UK dance scene. For those who aren't familiar with his work, his recent collaboration with vocalist Segilola comes highly recommended.
Dutch Uncles stole the show on Saturday night with their energetic set. Treating the crowd to songs from their latest album O Shudder, the math pop party animals have been sorely missed. The band chose a rendition of Seal's Kiss From A Rose as their grand finale, which ended up being the perfect choice for frontman Duncan Wallace's flamboyant vocals.
The star of the Dummy Stage was undoubtedly Mr Scruff. The DJ has become a mainstay on the Leeds music scene, and Garden Party would not have been complete without him. Soul II Soul also made a triumphant return to the live music scene, proving that dance music festivals aren't solely reserved for new acts.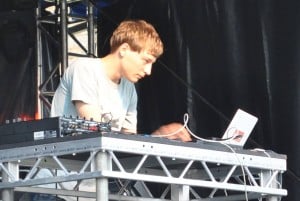 The acts of the Skinny Stage were to outshine the headline acts yet again on the Sunday. After their increasing success and extensive touring, Galaxians' set felt like a homecoming gig. Before they'd even begun, band members Jed Skinner and Matt Woodward took a moment to ask the assembled festival goers to congregate at the front of the stage and dance. There was no need to ask, as it was impossible to stay still for the entirety of their energetic set. Mancunian duo Bernard and Edith followed, unfortunately to a more dispersed crowd. The charismatic pair have recently been compared to London Grammar, and despite still being quite raw and unpolished, it's easy to see their potential after the success of their debut album Jem.
While city festivals have been growing in popularity, The Garden Party has managed to do what Beacons Metro and Live at Leeds couldn't and create an event that's both low key and completely eccentric at the same time. I can safely say that this year's Garden Party was the most joyous festival I have been to, and its crowds the happiest (and not just due to the quantity of drugs they'd been consuming). The art and food weren't quite the explosive mix I was expecting, but the incredible line up of musical acts more than made up for this. I'm certainly looking forward to seeing what the eleventh year of Leeds Garden Party has to offer.
Ella Healing
bernand and edith
,
dutch uncles
,
festival
,
galaxians
,
little dragon
,
mr scruff
,
pizza fella
,
review
,
roisin murphy
,
The Garden Party
,
The Tetley