A painting of a woodland scene covers much of one wall in this latest exhibition at Aire Place Studios in Leeds. The huge scale of this work gives the effect of being surrounded by the trees. It feels that you could walk amongst them, once you've crossed the barrier of pink flowers in the foreground.
These roughly painted flowers call attention to the artist's hand and to the process of creativity. Its size is awe-inspiring. In fact, all of the artworks in this exhibition have a strong and immediate impact. They fill the walls with colour and pattern, unencumbered by labels or explanation. We are encouraged to appreciate the art itself and the skill of the artists, without being distracted by descriptions, names or any other biographical information.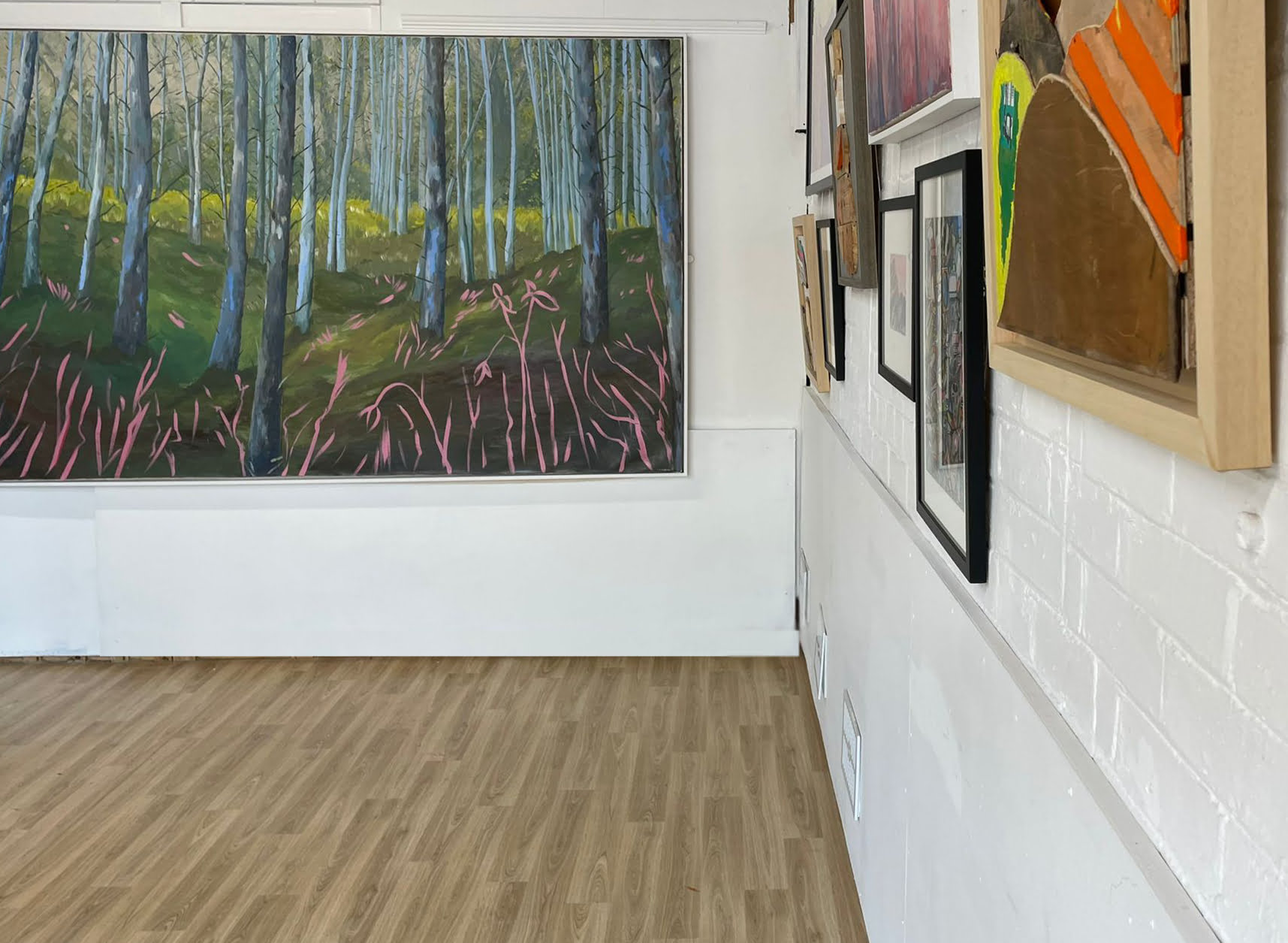 The Artist and the Other was the idea of Sarah Francis, creative director at Aire Place Studios and an artist and curator herself. The exhibition came about following conversations with studio holders and other artists around diversity in the arts. Aire Place Studios has a strong commitment to accessibility and inclusion and has developed a supportive community of creatives within the venue.
As the wider arts sector begins to make more of an effort to welcome and support moves to improve diversity, some people have speculated whether an artists' characteristics (such as age, gender identity, race and class) are sometimes promoted over their art, particularly in programmes that support diversity. This can result in the 'othering' of these artists, which further marginalise and isolate them from the mainstream. Artists can begin to wonder whether their art and artistic practice is being valued.
The Artist and the Other therefore aims to strip away any information that might label these artists as 'other'. This suggests that these artists come from communities or groups who are under-represented in the arts, but not knowing nothing more, we are free to enjoy their work without preconceived ideas or biases.
Instead of labels next to the art, a simple handout lists the artists and titles of their work.
Understanding the theme and aims of the exhibition certainly makes it more coherent. While the work by the four featured artists is eclectic, the mixture is complementary and offers pleasing contrasts rather than jarring differences. Clement Archibald's paintings, dense in colour and pattern, hold their own alongside Lucy Morrison's large-scale painting Bewitch and smaller oil paintings of trees. Archibald's intense acrylics are enigmatic, with titles that often give little away, but with myriad details to get lost in.
Three of the four artists work with paint, with Sarah Francis using mixed media including found materials such as wood offcuts and resin plus paint. By layering the materials Francis creates striking and textures abstract collages – where it seems glimpses of  of bodies appear.
Sarah Hardy's work is more figurative, but I find a particular resonance between her pieces and Francis's. Their work points to their interests in the body and with identity. Do these interests lead us to assume anything about the artists?
Any assumptions we might have are left hanging. But this is far from frustrating, as the powerful art in The Artist and the Other is there to hold our attention. Rather than ignoring diversity and inclusion, this exhibition puts it at the centre, but in a way that gives a platform for the art rather than overshadowing it. This encourages further conversation and debate, which is what great art can do.
***
The Artist and the Other continues until 29 September 2022, so be sure to visit this wonderful exhibition.
Gallery opening times: Wednesday – Friday (11am – 3pm)
Check out all 4 artists here:
Filed under: Art & Photography
Tagged with:
art
,
artists
,
arts
,
colourful
,
creativity
,
Diversity
,
exhibition
,
inclusivity
,
leeds
,
Nature
,
painting
,
texture